Co-op to open new £6m Highlands distribution centre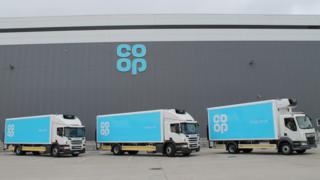 The Co-op is set to open a new £6m distribution centre in the Highlands.
The group said the centre, based at Inverness Airport Business Park, would support Co-op stores in the area and facilitate future expansion across the north of Scotland.
The 12,000 sq ft development will launch officially on 9 August.
The Dalcross facility will be able to service double decker vehicles, which the Co-op said would result in fewer journeys and reduced CO2 emissions.
The group is planning 18 new stores for Scotland by the end of 2018, with upgrades planned to a further 20, as part of a £28m expansion and renovation plan.
Co-op logistics director Andy Perry said: "We're thrilled to be able to launch our new site at Dalcross - it's a modern and future proofed facility which is perfectly placed to support the Co-op's ever-growing operations in Scotland.
"Our significant investment in a new distribution centre is also a symbol of our absolute commitment to serving communities in the north of Scotland, as well as a strong indicator of how well our food business is performing in this area.
"We have ambitious plans to continue to open new stores and Dalcross will ensure we can continue to serve our members and customers in the Highlands and Islands for years to come."