Weir Group boosted by strong growth in orders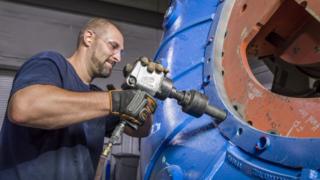 Engineering giant Weir Group saw revenue and profits soar in the first half of this year following strong growth in orders across its divisions.
Revenue climbed year-on-year by 15% to more than £1bn, while pre-tax profits from continuing operations rose by 38% to £143m.
Its oil and gas division reported a 35% increase in orders, while they were up by 12% for its minerals arm.
Orders were also up 34% in its flow control division.
That part of the business is due to be put up for sale towards the end of the third quarter, after the group decided to focus on its mining and oil and gas businesses.
Chief executive Jon Stanton said it had been a strong first half for the Glasgow-based company.
He said: "We saw strong double-digit growth in orders across all of our businesses.
"In mining that was really driven by demand from our customers for copper-related equipment.
"We are also seeing very strong growth in oil and gas. Our largest exposure is North American shale and the US is reaching record oil production levels at the moment which we are benefiting from.
"In our flow control division we are benefiting from the nuclear renaissance that we are seeing at the moment in certain countries - we received a large order of £23m for Hinkley Point C [nuclear power station] and other large orders in relation to Korea as well."
In April, Weir agreed to buy US mining tools producer Esco in a cash and share deal worth just over $1bn (£740m).
Oregon-based Esco produces parts for the surface mining and construction sectors.