Between public rock and private hard place
From collapsed Carillion to the Queensferry Crossing, via trains and water, the case for the public sector has been strengthened.
Tory ministers aren't always sure where they stand on this. At least one Churchillian captain of private industry is willing to confront their "dysfunctional" marketplace, starting with a row over asylum seekers in Glasgow.
The Labour Corbyn-McDonnell approach to the economy would surely challenge the role of private firms in running public services.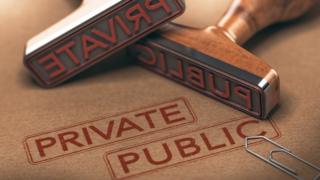 The relationship between the UK government and its private contractors is under growing strain.
Serco boss Rupert Soames has taken the corporate sting out of a controversy over asylum seekers being evicted from flats in Glasgow, by shifting the pressure on to the Home Office.
The question is one of who carries risk for reality on the ground becoming messily different from the intention of policy in London.
Policy has grown from Theresa May's "hostile environment" for asylum-seekers who are not granted the right to remain. On the ground, it's not so clear when their appeals are exhausted, and as Glaswegians have shown, political opposition to removals can put a block on removal.
According to Rupert Soames, his company is having to house 330 asylum seekers for which it is not funded. "This cannot go on," he told BBC Radio Scotland.
In wider recent comments, following on the Carillion collapse, Mr Soames has made clear that the question of who carries risk, and at what cost, will have to be addressed in this currently "dysfunctional" relationship.
Long-running debate
This comes back to a big question for the country: Which is best at running public services - private companies or public agencies?
It's a long-running debate in Britain. Other countries have a different - and often more relaxed - take on it.
But it's a question that is sure to feature more, as the prospect of an election and a Jeremy Corbyn government focuses minds.
Along with Shadow Chancellor John McDonnell, one policy they can be expected to push hard is a rolling back of the private-public state, in favour of state employment and state agencies to deliver public services and government objectives.
With that direction of travel in mind, trade unions are cranking up the pressure on those services which are privately-run.
The recent failure of another rail franchisee on the East Coast Main Line has drawn attention to the shortcomings of the franchise system, and enthused those who wish to see other franchises brought back into the public sector.
The SNP has pledged to have such a public company ready to bid for the next ScotRail franchise. It already runs most of the ferries.
And while unions agitate against the profit-making water companies in parched, thirsty England with its leaking pipes, Scottish Water remains in public hands while achieving at least the service levels of its private comparators.
Good practice
The issue extends to procurement of big projects. The relationship between the Ministry of Defence and BAE Systems appears to be not only complex but unhealthy in its mutual dependence.
As we've just seen with the failed tendering process for the next design of Royal Navy frigate, the MoD still struggles to get the procurement basics right.
In Scotland, procurement has gone wrong too. The Holyrood building was a nightmare that made lots of people very angry. The computer system for farmer payments has been an unhappy and expensive saga.
But the Scottish government gets the credit for an unusually positive report from Auditor General into the construction of the Queensferry Crossing.
According to Carolyn Gardner: "There is much the public sector can learn from the way Transport Scotland managed the project and it's important that the good practice is shared more widely.
"The management of the project delivered value for money and achieved its overall aim of maintaining a reliable road link between Fife and the Lothians."
There is a proviso: we don't know how much difference it is making. But these are words to be savoured and saved by those who back a conventional approach to public procurement.
Asylum
In the private sector, Carillion has given procurement of public services a bad name, with a business model of aggressive bidding for contracts on tight margins, and hoping for the best.
Serco has also struggled to make its contracts work profitably. Last week, it issued its half-year figures, showing that profits are modest but growing (modestly) - £1.36bn turnover and £38m in underlying profit. Four years ago, it made a loss of £1.3bn, and it has since been trying to clear things up.
Rupert Soames, the chief executive, has argued the problem that nearly sank Serco resulted from his predecessors being unable to see what was going on in such a hugely complex organisation.
Serco has more than 40,000 employees, in public sector contracts from New Zealand to the UAE to Britain, where 40% of its revenue is generated.
It cleans offices, cooks lunches, runs complex military installations, prisons, including Kilmarnock, and Caledonian Sleeper trains. It handles city-wide bike rental schemes, manages facilities at the new Dumfries and Galloway hospital, and, yes, it is paid by the Home Office to handle asylum seekers, locking them out of their homes when their UK time is deemed to be up.
Dysfunctional
Rupert Soames is alert to the politics of this. It's in his blood. His brother, Nicholas, is a Tory MP. His grandfather was Winston Churchill.
And he had some interesting observations about the "dysfunctional" market in which Serco operates.
As a chief executive, he doesn't just lead a business. As he showed in charge of Aggreko, the Glasgow-based temporary power supplier, he also engages in the public policy debate that shapes the sector - back then, ridiculing an approach to renewable energy which he caricatured as naive.
The view from Serco is of a government in Whitehall which is so engrossed in Brexit that it is ignoring the possibilities for "new outsourcing and transformation projects".
However, the collapse of Carillion has, he says, convinced government it needs to pay serious attention to the state of the market, and in particular, the transfer of unmanageable risk from government to suppliers such as Serco.
The company has put forward some principles for rebalancing the relationship between the government and its supply chain; transparency about the choice between private or public sector providing a service; security of supply, including arrangements for contracts going wrong and companies collapsing or walking away; an arrangement for orderly exits from a contract for both government and supplier and fairness, including codes of conduct for the way the two sides treat each other.
Brexit hiatus
Even getting Tory ministers to defend the role of the private sector in public services was uncertain, said Soames, as they came under pressure from opposition MPs.
He quotes two ministers who have made supportive noises in recent speeches, but adds: "We are under no illusion that this will be an easy process, and it will take some time to shift some deeply-ingrained attitudes to risk transfer, but we will be continuing to work with government to develop new approaches to government contracting which will deliver in the long term a vibrant and competitive supply chain for public services".
If he finds it's tough-going under a Conservative government, it would be interesting to watch how Serco and Soames get on with Messrs Corbyn and McDonnell.
But for now, the focus is on handling a "market hiatus" caused by Brexit and "market dysfunction", reassured that government cannot do without the services Serco is delivering: prisons, health, immigration, defence and transport.
"Our strategy is to weather as safely as we can the current storm, attempting to influence for the better the future shape of the market as we navigate the various hazards, dipping our net in the water if we see opportunity, so we will be well positioned when we reach calmer waters.
It is the mark of an optimist that he thinks there are calmer waters ahead. For the meeting of tidal streams between public and private, it looks very choppy for the foreseeable.
This article was first published on Friday 3 August and updated on 7 August.