Food, Fringe and Euro Championships boost August sales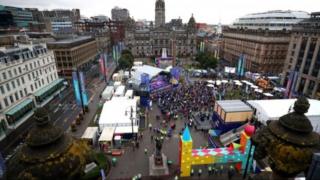 Retail sales grew for the fourth successive month in August following a "successful summer" for retailers, according to a new report.
Food sales did well, and the return to school boosted sales of children's clothes, but overall growth was down.
The SRC-KPMG Scottish Retail Sales Monitor found total sales were up 0.5% on August 2017.
The Fringe Festival and the European Championships helped boost spending but general clothing and TV sales dipped.
The Scottish Retail Consortium (SRC) said it was a positive end to the summer but struck a cautionary note looking ahead.
Ewan MacDonald-Russell, the SRC's head of policy and external affairs, said: "A fourth month of sales growth brings a positive end to a successful summer for Scottish retailers.
"Yet as the shadows lengthen with the nights drawing in, there will be some concern the same challenges we saw earlier in the year may return with strong grocery sales offsetting a fall in non-food sales."
The report found total food sales in August increased 3.8% compared to August 2017.
'Tricky month for retailers'
The figure is below the three-month average of 4.7% and the 12-month average of 4.3%.
Total non-food sales decreased 2.2% in August compared to August 2017.
August's overall year-on-year sales increase of 0.5% was below the three-month average of 1.5% but in line with the three-month figure.
Paul Martin, UK head of retail at KPMG, said: "August can be a tricky month for retailers as summer sales draw to a close and shoppers wait for cooler temperatures to hit before investing in a winter wardrobe.
"The three-month trend shows Scottish non-food retail sales only grew 0.8%, even taking into account online sales.
"While this figure is low, it is still higher than the UK-wide average of 0.1%."
He added: "Both the Edinburgh Fringe Festival and European Championships may have drawn in tourism throughout August, but this didn't counteract the squeeze on consumer spending.
"While any growth is positive, retailers must continue to pursue repositioning, restructuring and transformation programmes to stay afloat."