Scottish economic growth outpaces UK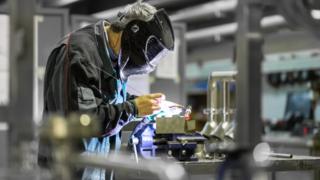 The Scottish economy grew at a slightly faster rate than the UK as a whole during the spring months, according to official figures.
An initial estimate by Scotland's chief statistician showed onshore GDP grew by 0.5% in real terms between April and June.
The UK economy grew by just 0.4% over the same period.
Over the first half of 2018, Scotland's economy grew by 0.8% - compared with the UK figure of 0.6%.
The Scottish figures do not include output from offshore oil and gas extraction.
Between April and June, output in the Scottish construction sector grew by 1.8%, production by 0.6% and the services sector by 0.4%, while agriculture fell by 1.2%.
Compared with the same quarter last year, services grew by 1.2% and production by 4.6%, while construction remained flat. Agriculture was down by 1.7%.
Last month, Scotland's chief statistician revised growth for the first three months of the year to 0.4% - up from the 0.2% that was previously estimated.
Scottish Finance Secretary Derek Mackay said the latest figures showed that Scottish growth was both pulling ahead of the UK and outperforming the official growth forecast.
'Still struggling'
He said: "The Scottish government is focused on building on the country's strong economic foundations, supporting businesses to stimulate growth jobs and investment.
"Our programme for government includes an ambitious package of measures to ensure we are delivering for the economy of today and ready to seize the opportunities of the future."
The UK government's Scottish Secretary David Mundell said it was welcome news that Scotland's economy had continued to grow.
He added: "However, we cannot be complacent. Scotland's economic performance is still struggling to close the gap with the UK economy which has opened up over recent years.
"I urge the Scottish government to focus on growing Scotland's economy."
Scottish Chambers of Commerce chief executive Liz Cameron said it was "fantastic" to see Scotland's economy growing despite "uncertainty surrounding the broader trading environment".
She added: "It's testament to the resilience and innovation of our businesses that Scotland has outpaced the UK this quarter, however, this is certainly no time to be complacent.
"Scottish Chambers of Commerce and our business members look to the UK's respective governments to continue to reform policy to ensure that business has the best chance to capitalise on this recent growth and further strengthen our economy."