Trump Turnberry posts losses for fourth year in a row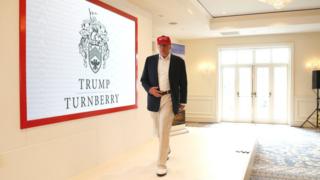 The Turnberry golf resort owned by US president Donald Trump has racked up millions of pounds of losses for the fourth year in a row.
According to Companies House filings, SLC Turnberry's parent company Golf Recreation Scotland was in the red by almost £3.4m in 2017.
In the previous year, it posted losses of £17.6m after the resort was closed for six months for redevelopment.
Since Mr Trump took over Turnberry in 2014, its losses have totalled £33m.
Mr Trump stepped down as a director in January last year after becoming US president, handing control of his business empire to his sons.
In the latest set of accounts, his son Eric - who remains as a director - said: "Having seen a decline in turnover of 22% in 2016 due to the resort only being open for six months, 2017 saw an increase in revenue year over year of 70%.
"It is expected that revenue will continue to increase in subsequent years as the property is re-established as an industry-leading resort."
Last December, it emerged that Trump Turnberry would no longer qualify for a controversial tax break.
A change in the Scottish government's budget last year removed the South Ayrshire resort from a business rates relief scheme.
In July this year, Mr Trump and his wife Melania stayed at the resort during a private leg of their visit to the UK.
They spent two nights there, with Mr Trump playing two rounds of golf during his visit.