Scottish brewery sector sees 'explosive growth'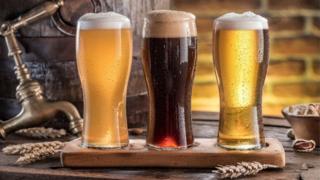 Scotland's brewing industry has enjoyed "explosive growth" since 2010 as craft beers have become increasingly popular, according to new research.
The Scottish Parliament Information Centre (Spice) found there were 115 breweries across Scotland this year - compared with just 35 eight years ago.
More than four-fifths of businesses in the sector were micro-breweries.
The study also found that 30% of all brewing enterprises were in the Highlands and Edinburgh.
The report said: "Globally, beer consumption has been falling for decades.
"However, this has not dampened the significant brewery start-up rate, responding to consumers choosing to drink more expensive, specialised beers.
"Scotland's craft breweries have flourished over recent years with a plethora of new breweries entering the market."
---
While just four local authority areas contained breweries in 2010, currently 16 of the 32 separate regions are home to at least one brewing business.
"Both urban and rural areas have benefited from the explosive growth of the sector," the report found.
Breweries had an average turnover of £271,310 in 2018 - lower than the average business turnover of £673,000.
But 10% of breweries had sales levels worth over £1m, while just over half (52%) had turnover levels that were below £100,000.
The research also identified 128 malt and grain distilleries in Scotland, giving the country the largest concentration of whisky producers in the world.
In addition it found more than 60 distilleries producing gin in Scotland, with more than 110 varieties of Scottish gin available.
Overall, the spirits industry makes up 3% of Scottish GDP, with nine out of 10 distilling jobs in the UK being located north of the border.
Average turnover across all Scottish distilleries was approximately £5.3m each in 2018, according to the report.