HMRC data shows Scotch whisky exports continue to grow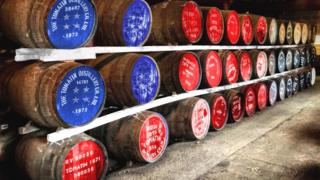 The value of Scotch whisky exports climbed by 10.8% to almost £2bn in the first half of this year, according to new figures.
Analysis of HMRC data by the Scotch Whisky Association also showed a year-on-year increase of 5.6% in the volume of exports, to 558 million bottles.
Single malts continued to grow in popularity, with exports up 14.4% on the same period last year, to £550m.
They now make up 28% of the value of all Scotch shipped overseas.
Exports of blended Scotch whisky also grew, rising by 8.9% to £1.26bn.
Sales to China were up by 34.8%, to £36.3m, while exports to India increased by 44.4%, to about £56m.
The US remains the largest overseas market by value, at more than £400m, with France the largest by volume, at almost 90 million bottles.
The European Union remains the biggest regional destination for Scotch, accounting for 39% of the volume of exports and 31% of their value.
The Scotch Whisky Association said the EU figures underscored the importance to the industry of the UK achieving a smooth exit from the EU.
Chief executive Karen Betts said: "It's hugely encouraging to see Scotch whisky exports continue to grow - and at double-digit rates - in the first half of this year.
"Scotch whisky is a luxury spirit, crafted with care in Scotland, and enjoyed all over the world - in established markets like the EU and emerging markets like India and China."
Earlier this week, Highland distillery Tomatin announced that it had achieved significant growth for its single malt whisky in the US.
The company said it sold more than 35,000 cases of branded product stateside in 2017, amounting to almost £2m worth of sales.
Analysis by Douglas Fraser, BBC Scotland business and economy editor
Slainte! A healthy set of export figures for Scotch show that it's rebooting its mojo after a lull.
Those who have made a vast amount of investment in new production capacity can breathe easier.
After growth surged at the start of this decade, boosted by the aspirational middle classes in emerging economies, it slowed sharply.
The eurozone's woes were one cause. So was China's official disapproval of conspicuous gifting and hospitality. Korea and Taiwan, which had shown a lot of promise for Scotch, lost their thirst for it.
But China has got its drouth back. Not only were direct exports up 35% to £36m in the first half of this year, but exports to Singapore, many of them on-bound for China and other countries in the region, were up 24% to £140m.
Ahead of the Scotch Whisky Association putting out its half-year figures, Pernod Ricard (think Chivas, Ballantine's and Glenlivet brands) put out strong July-to-September figures that reflected stocks being built ahead of Chinese New Year. They said Chivas was up more than 10% in China.
Blended Scotch
Behind the positive headline figure is a significant message about blended Scotch. Its growth had stalled as demand moved upmarket to single malts. But both blended and unblended are on the rise in these latest figures.
With strong growth in exports to all four BRICs (Brazil, Russia, India and China), India is the one with most potential. It charges a 150% tariff on imported spirits, yet there were 43 million bottles (or equivalent in bulk) exported in the first of this year, up 9%, while the value rose 44% to £56m.
If the UK, post-Brexit, is to strike a trade deal with New Delhi, that could slash the tariff barrier and boost that growth into a vast market of whisky enthusiasts.
The European Commission has been trying to get there, without success.
The catch is that top of India's wish list for trade talks is access to the labour market for its IT technicians and professionals, and no-one in the UK government sounds keen on that idea.