Roadchef workers closer to shares payout after legal battle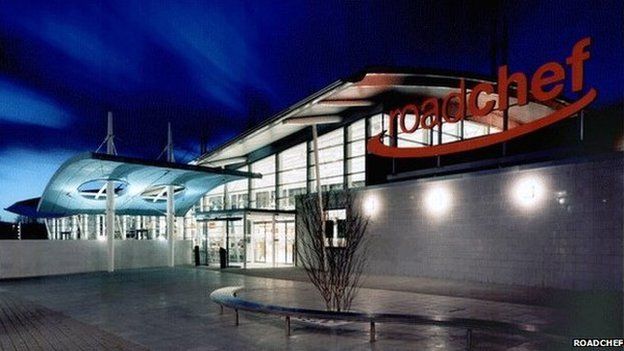 Thousands of former Roadchef workers are closer to receiving compensation after a 20-year battle over shares.
HMRC has agreed to release millions of pounds wrongly paid in tax, meaning a long fight for payouts is in sight.
Many employees were promised shares in 1986 - when the company set up a programme similar to John Lewis.
But a large number of those shares later moved into another trust and employees say they lost out when the company was sold in 1998.
A legal battle ensured and a settlement was reached in 2015, but it emerged millions of pounds relating to the scheme had been paid in tax.
HMRC has now given that money back to the employee trust.
The decision affects about 4,000 former employees of the motorway catering firm.
Campaigners, who have kept up the pressure for £10m plus interest to repaid to workers' trustees, hope they can secure tax relief on the payouts and release the money soon.
Airdrie and Shotts MP Neil Gray said he was delighted for constituents who are owed money.
Mr Gray MP said: "I am absolutely delighted because it is not often that anyone manages to get any money out of HMRC, but this campaign has managed to get millions of pounds out of HMRC.
"I am most delighted because that means that my constituents in Harthill are likely to see the payout coming much sooner than was expected.
"But there is much more that we need to do now in order to make sure that all this money that we have managed to secure from HMRC does not get clawed back in tax.
"The campaign continues, the work continues, but I am very happy at this stage."
Margaret Gibson, 64, a former catering supervisor at Harthill services, said: "I am really pleased that we have now come to the conclusion that we are going to get some money back.
"We are not sure how much it is going to be but thankfully there is going to be an end to this."
The fight by workers to secure compensation stems back to a promise made by a former managing director in 1986.
His successor, Timothy Ingram Hill, was accused of improperly acquiring the shares, disregarding Mr Gee's wishes.
The shares made Mr Ingram Hill almost £27m when Roadchef was bought in 1998.
In January 2014, the High Court ruled that Mr Ingram Hill had breached his fiduciary duty to Roadchef employees, but there was no suggestion that he had acted illegally.
Both Mr Ingram Hill and the Roadchef employees appealed elements of the judge's decision, and an out-of-court settlement was subsequently reached.
An HMRC spokesperson said: "We review the taxation affairs of Employee Benefit Trusts to ensure that tax rules are being followed correctly.
"Due to taxpayer confidentiality, we cannot comment on the specifics of this case. We continue to engage with Roadchef Employee Benefits Trustees to resolve the taxation position."