Diageo in talks to secure former Frasers store in Edinburgh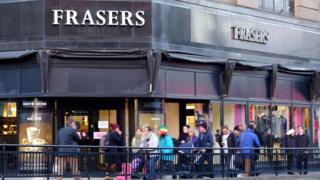 Spirits giant Diageo has confirmed it is in talks to secure the former Frasers department store in Edinburgh's west end as its base for a major new whisky visitor centre.
The group said negotiations with the owners of 145 Princes Street were at an early stage.
House of Fraser moved out of the landmark building in September.
Diageo has said it plans to locate its new Johnnie Walker "immersive visitor experience" in the capital.
It is understood the talks with property developers Parabola involve a leasing arrangement for the entire building.
A Diageo spokesman said: "We have begun negotiations with the owners of the building at 145 Princes Street as a potential location for the global Johnnie Walker brand experience and we will be engaging with the local authority to explore the planning potential for the redevelopment of the building.
"This is one of the city's landmark buildings and we want to explore its regeneration in a way that respects its unique heritage and place in Edinburgh city centre.
"We cannot comment further while discussions are ongoing."
It is understood that Diageo is hoping to emulate the success of its Guinness Storehouse visitor centre in Dublin, which attracted 1.7 million visitors last year.
In April, Diageo announced plans to invest £150m over three years to "transform" its Scotch whisky visitor offerings.
Diageo will also upgrade its network of 12 distillery visitor centres.
The company said it was the "biggest concerted programme ever seen in Scotland's whisky tourism sector".