Ibrox: Dave King and his Going Concern
A big financial loss at Rangers International Football Club reflects big errors in spending, meaning a new regime for picking players
The club does well at selling tickets, but it lags Celtic in other earnings
Banks don't bankroll RIFC, so its directors and investors are doing so. For how long?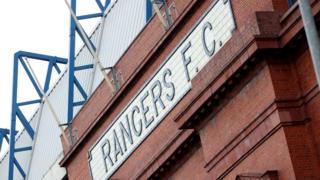 There are lots of numbers in the accounts of Rangers International Football Club, as you would expect.
The playing squad, in the year to last June, was up from 59 to 66, with total staff at Ibrox up from 179 to 202.
Average attendance at home league matches was up to 49,200.
The numeral that ought to relieve fans of the nearly-eponymous football club more than most is that it is now 65 months since Craig Whyte last threatened legal action.
How do the numbers stack up?
The former Ibrox chairman's gas seems to be at a peep, and the humiliating memories of the Craig Whyte fiasco are fading in the rear view mirror.
When I say the football club is nearly eponymous, it's worth explaining to those outside the Old Firm orbit that this matters a lot, to some people.
To refer to the corporate entity as Rangers Football Club is to, as the club's critics see it, to concede the claims of fans at Ibrox that the current crop of boys in blue are from the same lineage as the corporate entity of that name dating back to 1872.
So the word "International" matters here. The company that holds the Ibrox assets as part of its structure is Rangers International Football Club. Whether the playing entity carries forward the older tradition, and its record of winning silverware, is not for me to judge. Or to care.
That international monicker is an uncomfortable fit, because being International is what RIFC has most lacked in recent years. Having made it back into the premiership of Scottish football, Rangers had a foray into European competition last year, with high hopes (the only variety the faithful will contemplate), and it bombed before the real season had even started.
That helps explain why the numbers that really mattered at the club's Annual General Meeting in Ibrox were coloured not in black or blue, but in red.
Rangers International FC
How the numbers stack up
£21.5m Player wages bill

66 Playing squad

202 Total staff at Ibrox

49,200 Home attendance
The club reported a £14.7m loss last year, which wasn't far from half of its £32.7m revenue. That income figure was up 12%, which is nice, but at the same time, expenses were soaring.
Why? Another number: two managers took charge at Ibrox last season. They had a dismal time. They were spending on players with expectations of being far bigger than the club they are.
You can see this as investment for the future. But it was a particularly poor investment, by the admission of the chairman Dave King.
"Something went wrong," he concluded.
The investment didn't lead to a commensurate rise in performance. And not only did the players not perform on the field: that shortfall made them less valuable in the transfer market.
The accountants are able to measure just how bad it was. They account for the value of player registrations. As soon as you sign a player, the value "amortises" - that is, it declines until that contract is complete.
In addition, there is impairment, which is the underperformance of assets, lowering their value beyond the effect of amortisation. Last year alone, directors had to accept an impairment on their playing assets of £3.3m.
Along with amortisation, that contributed £7.6m to the 2017-18 loss, up from £1.8m the previous year.
Meanwhile, the total wage bill was up from £15.8m to £21.5m.
Selling players on
Out of interest, how does that compare with another club with a similar sort of stadium size, fan base and aspiration? Let's take, for instance, Celtic Football Club.
The Parkhead accounts for last year show amortisation of £8.8m. It's a bigger number if you have a more valuable squad.
But Celtic's business model is to increase the value of its players and sell them on. Last year, it made a profit of more than £16m on the selling of players - or what accountants like to call "intangible assets".
Such numbers can go up and down a lot, as big sales make for lumpy flows of moola.
The other big numbers that matter at Celtic Park include merchandising, which last year hit £17.7m. For Rangers, that element of income is a sorry tale of dispute with Mike Ashley and Sports Direct.
At Celtic, "multimedia and other commercial activities" include TV rights and sponsorship. That topped £40m last season - almost as much as the £43.6m from "football and stadium activities", which includes ticket sales.
In total, the wage bill at Celtic was £59m to Rangers' £21m, its revenue was £101m to Rangers' £32m, and its profit was £17.3m to Rangers' £14.7m loss.
For Rangers, there is always hope and expectation, and it seems this season to be pinned on psychology.
According to the chairman, Dave King, there wasn't much method to the recruitment of a strengthened playing team. He attributes a happier run in Europe this season to the review carried out by director of football Mark Allan.
"Very importantly, we have now incorporated key personal character traits that have to be present for anyone wishing to play for Rangers, or to be part of the management of this club. We have seen that technical excellence alone is insufficient to perform at a club like Rangers."
In other words, modern sports psychology and management has finally made it to Ibrox, and is now being marshalled by manager Steven Gerrard.
Digging deep
RIFC now has Metro Bank on board, having lived without much banking support for several grim years. But that's not where it can look to bankroll losses. For that, it has directors, ploughing in loans and occasionally swapping them for equity.
By the end of its financial year, in June, total external loans had mounted up to £23.4m. That's not a particularly healthy figure, as Rangers fans ought to know by now.
It's lower now, because of a debt-for-equity swap worth £11m, carried out earlier this autumn. However, more money will be required - £4.6m more this season, with the first tranche required in January, and a further £3m more in the 2019-20 season. The more of that transferring into equity, the more dilution there will be of other shareholder stakes.
The club might continue a Europa league run meets the fans' high expectations - we'll find out more about that on Thursday evening against Villarreal - and the added broadcasting rights with gate receipts could offset those numbers.
But the accounts spell out very clearly that RIFC can only be considered a going concern because directors and other investors are willing to dig deep, and have promised to keep doing so.
One big question is how long Rangers can afford to live beyond its means. Or to put it more positively: how long and how much will this investment strategy require before it delivers profitable results?
It was a question put to Dave King at the AGM, to which the answer came: "As long as it takes".
This article was updated in May 2019 to make the corporate structure of Rangers clear.