Scottish Engineering review shows 'unexpected optimism'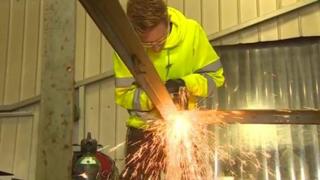 Scotland's engineering sector has shown "unexpected optimism" for the coming quarter, despite reporting a fall in exports, orders and staffing.
Industry body Scottish Engineering's latest quarterly review suggested exports declined overall by 17%, after seven consecutive positive quarters.
Its survey also showed order intake dipping into negative territory for the first time in two years.
However, overall optimism remained positive, with forecast orders up.
A more upbeat outlook was reflected in companies of all sizes, particularly large firms, where 40% reported an increase in optimism.
While the metal manufacturing and non-metal products sectors were negative, machine shops, mechanical equipment, fabricators and electronics firms were all "strongly optimistic".
'Uncertainty continuing'
Forecasts for the next three months appeared to be mainly positive, with UK orders and export orders in general expected to pick up.
This was despite employee numbers dropping "across the board" during the last quarter, with only machine shops reporting an increase.
Scottish Engineering chief executive Paul Sheerin said: "In many ways the results reflect the uncertainty which has been a continuing theme.
"Whilst orders have been down in this past quarter, forecast orders are up, perhaps reflecting that wider industry is planning for contingency as we approach the Brexit cliff.
"Our reported optimism must surely reflect that a deal, compromised as it may be, enables the avoidance of a no deal Brexit, and the chaos that could bring."