Meet the man who blesses Scottish salmon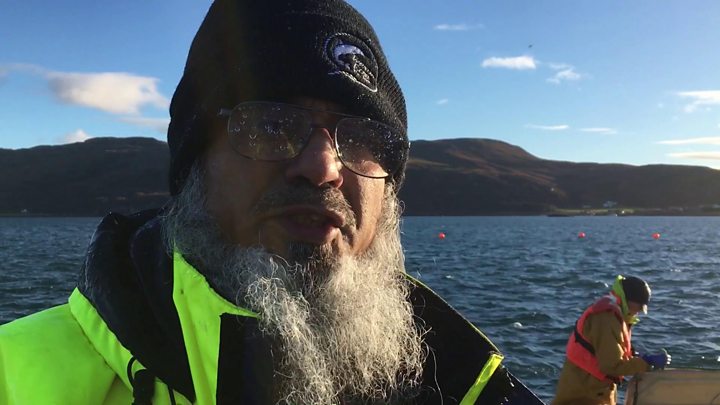 Clambering on board a boat at Ardmair, near Ullapool, is a rather special passenger.
Hatim Ameen is sitting alongside Wester Ross Fisheries staff speeding out across the sea to the fish farm which lies in the shelter of Isle Martin in the middle of Loch Canaird.
His long beard is blowing in the icy wind, and there's a smile across his face.
He's flown up from Manchester for the day on an unusual mission.
Hatim is a member of the Dawoodi Bohra, a relatively small branch of the Shia community.
He travels to north west Scotland to bless each and every fish to make it halal just before it is slaughtered.
Once we arrive at the floating fish farm, Hatim wastes no time getting down to work.
The salmon are held in a large pen and below them a net is raised, guiding them towards a wide tube which pumps them up to a raised platform where they are being blessed.
At the platform where fish arrive in a stream of sea water Hatim is blessing each fish by touching it with his bare hands, saying a silent prayer and then passing the salmon on to be stunned and then killed.
Generally in Islam fish is already halal, but Hatim says that the ritual of silently saying "In the name of the God" is enough to make each salmon fit for consumption by followers of Dawoodi Bohra.
He reckons he touches and blesses 400 to 500 fish in a session, which on a Scottish sea loch in November means cold hands.
Hot water bottle
During a pause he explains how after coming here for seven years he's finally come up with a way of staying warm.
"This time I thought I should do something about it so I brought a hot water bottle so when we have a break I can warm my hands up."
The hot water bottle was stuffed down the front of his survival suit.
The boss of Wester Ross Fisheries, Gilpin Bradley, says the initial phone call from Hatim asking to come and bless salmon to make it halal was a bit of a surprise but is delighted the company went with it.
"We couldn't quite believe the phone call from Hatim, and we didn't fully appreciate what was involved in a blessing and that he wanted to bless every salmon, but to be honest our customers like the fact that we are accommodating for another particular requirement."
Fifty miles away on the other side of the country in Dingwall, the fish are processed.
The halal batch will go to Manchester, Leicester, London and Detroit.
Julie Ross, who is in charge of the processing, said: "It's exactly the same except Mr Ameen has been there and blessed each and every fish.
"At the end of the day you do exactly what the customer requests. The customer is number one."
Back on Loch Canaird the job is done.
More than 400 salmon have been blessed, stunned and dispatched.
Hatim is on the boat back to the shore, a car waiting to take him to Inverness airport and his return flight to Manchester.
And the hot water bottle - did it work?
"It worked a treat," he confirmed, his beard blowing in the wind and the smile still on his face.