Stagecoach pulls out of United States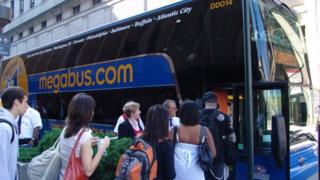 Scottish-based transport company Stagecoach has pulled out of the US.
The firm, which has its headquarters in Perth, has been running bus services in North America for 20 years, but has had to significantly write down the value of the operation.
Stagecoach has sold its North America division to a private equity firm for $271m (£214m).
It said it planned to concentrate on its bus and rail services in the UK.
Stagecoach had reported a £22.6m pre-tax loss for the six months to 27 October, driven by a writedown of £85.4m on its US division.
Stagecoach said the writedown reflected a "revised view on long-term profitability".
Following the announcement of the division's sale, chief executive Martin Griffiths said: "During our two decades in the North American transportation market, our success included reinvigorating the inter-city coach sector and delivering growth with our innovative megabus.com brand.
"The sale of our North American operations will allow management to focus more closely on the significant opportunities for growth in the UK."
'Better option'
Stagecoach's North American operations have been hit by increased competition, as well as rising fuel and staff costs.
Like-for-like revenue for the division fell over the half-year by 3%, with megabus.com North America revenue declining by 1.7%.
Transport analyst Gerald Khoo, of London investment bankers Liberum, said the sale of the US arm was "sensible", but came at a "disappointing" price.
He said: "The group needed to get big or get out.
"Given the headwinds to demand from lower fuel prices making car travel and airline competitors more price competitive, growing Megabus organically was challenging.
"Against that backdrop, exiting North America appears the better option, in our view, despite the slightly disappointing valuation achieved."