Sullom Voe: EnQuest to cut 80 jobs at Shetland oil terminal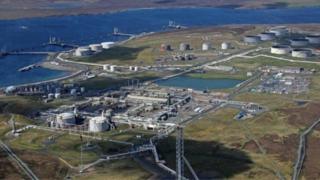 Oil company EnQuest is to cut about a fifth of its workforce at the Sullom Voe terminal in Shetland.
About 80 jobs are set to go as the operator launches a cost-cutting move in a bid to secure new business.
The company is currently in talks with former operator BP to continue exporting oil from the Clair Field west of Shetland via an existing pipeline.
EnQuest is trying to retain the vital contract and stop oil being loaded offshore and by-passing the terminal.
Unite the union expressed "utter dismay" at the news, and said a ballot for industrial action was a possibility.
EnQuest took over the running of the terminal from previous operator BP in December 2017.
Craig Lennox, general manager of the Sullom Voe terminal, told BBC Radio Shetland: "We are going to enter into a period of consultation later this month looking at manning levels and looking at some terms and conditions.
"This has followed a quite detailed review over the last six or seven months.
"We are looking to reduce the amount of budgeted positions for around about 80 individuals. That will be 60 staff and 20 contractors."
Mr Lennox said it was hoped voluntary redundancies and redeployment could be to the fore.
He added: "We need to be a commercially competitive organisation. Yes, there will be some pain, we're trying to make that as small as possible. It's a long-term strategy.
"We will look to have all the changes in place by January 2020."
Mr Lennox insisted the cutbacks would not compromise safety at the terminal.
Unite regional industrial officer John Clark said: "There has been utter dismay and bemusement following the announcement by EnQuest.
"The sheer scale of the possible redundancies has taken everyone by surprise.
"We will explore every option, including balloting our members for industrial action."
Harbour board chairwoman and local councillor Andrea Manson said: "The oil industry is not the biggest industry here any more, the aquaculture industry is.
"It is vitally important our sea is clean.
"We need 100% reassurance from EnQuest that cutting the staff will not cut their capability to stop oil getting into the water if anything happens onshore."