Covid-19: Hospitality Horrors
By Douglas Fraser
Business and economy editor, Scotland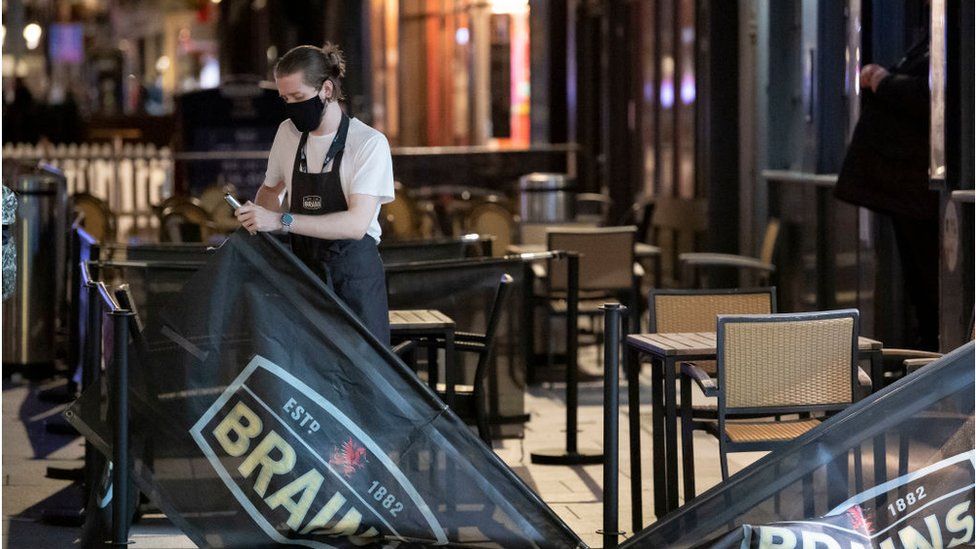 Pubs and restaurants are taking the commercial brunt of suppressing the Covid-19 virus, and voicing deep frustration.
The rest of the night-time economy will join them in trying to get a share in a limited fund to mitigate the costs.
Furlough and yet more borrowing can help, but for those forced to close, the only option is to continue burning through cash reserves.
Catastrophic, devastating, crushing - just some of the politer words being used in the hospitality sector as the scale of Scotland's latest Covid restrictions sunk in.
There's frustration that they've spent big on adaptations and screening, to make their premises safe for customers and staff. They played by the new rules, when members of the public flouted them, and now…?
They want to see the evidence that licensed premises are the problem, when they know the 10pm clear-out puts people on the streets together, many heading home to drink in less safe environments.
There's a lack of clarity, also, about the £40m fund created by the Scottish government to mitigate business and staff losses. Only on Thursday do they start discussions on how it is be shared out.
And there's a dread of what follows; Christmas and New Year with social distancing and no workplace parties, and the real prospect that wave after wave of Covid-19 infections could bring them back to this point repeatedly, until a vaccine is found.
Those who aren't caught in the net of restrictions don't give the politicians and their medical advisers much credit.
But it's worth noting that, for now, most other businesses can keep washing their hands and carry on.
A few firms will benefit. Supermarkets win again, with the shift from the on-trade to off-sales of alcohol.
Tesco's half year results, also out on Wednesday, were hit by a £533m bill for the measures required to make stores safe.
But sales were up 7%, and profits rose 29%, helped by much less need to discount products over recent months. It was aided further by £249m of business rates relief.
It's the night-time economy of pubs, restaurants, taxis and street food that are facing most of the commercial pain, in the effort to suppress the spread of that virus.
Even where pubs can open until 6pm, outside the Central Belt, many won't bother where alcohol sales aren't allowed.
The supply chain is affected as well: brewers and distribution firms, and many food producers that focus on restaurant supply. They're left with perishable produce on their hands.
Other firms will face the impact of reduced public transport use (we're told not to use it unless necessary).
Reaching into other sectors including retail, and beyond the heightened restriction level, there's concern about the blow to customer confidence to venture out of their homes when surrounded by so many reminders of risk in public places.
What can pubs and restaurants do? Where they're allowed to open at all, they can adjust their effort to drawing people in before 6pm, and focus more on takeaway.
Some are able to furlough workers, but only those who were furloughed before July, in the first round of the Job Retention Scheme.
The second round, starting in July and ending on Hallowe'en, requires a period of at least three weeks on the scheme. This is the last week a worker can start a period on furlough, which may not be coincidental with the timing of the announcement.
During October, the employer of a furloughed worker has to find 20% of pay along with National Insurance contributions.
Or they can hope to have a share of that £40m. But they're closing their doors without any knowledge of whether there's going to be money to help them re-open, and how long it will take.
Several business groupings are sure that it won't be nearly enough.
Back in spring, small hospitality, leisure and tourism firms could get a £25,000 grant. That wasn't well targeted.
There's a case now for aiming it more at those most in need of the funds, but that will make any scheme more cumbersome and slow to implement.
Firms also got quick and easy access to bounce-back loans of up to £50,000. Too easy, it seems, with the National Audit Office suggesting that around £1.9bn of the £38bn paid out so far, UK-wide, might have been fraudulently claimed.
At least as alarming, the NAO reckons that the bad debts on those loans could go as high as £26bn - showing the scale of calamity that some expect to hit small firms as the crisis grinds on.
That figure also terrifies banks, who will be expected by the UK government, as 100% guarantor of bounce back Loans, to go after defaulting customers.
Getting those banks to take more of the strain and responsibility for economic recovery is also part of the recovery plan the Scottish government was handed by former Tesco Bank boss Benny Higgins.
Mostly, hospitality firms which aren't allowed to open until 26 October, as well as those that are, but can't see much point with the new restrictions, will simply burn through their cash reserves. That's those who have any cash left.
Fixed costs, for rent, insurance, remaining staff and numerous other overheads, remain just that - fixed. Until company directors conclude it's time to close permanently.