Brexit shellfish delays leave Scottish seafood rotting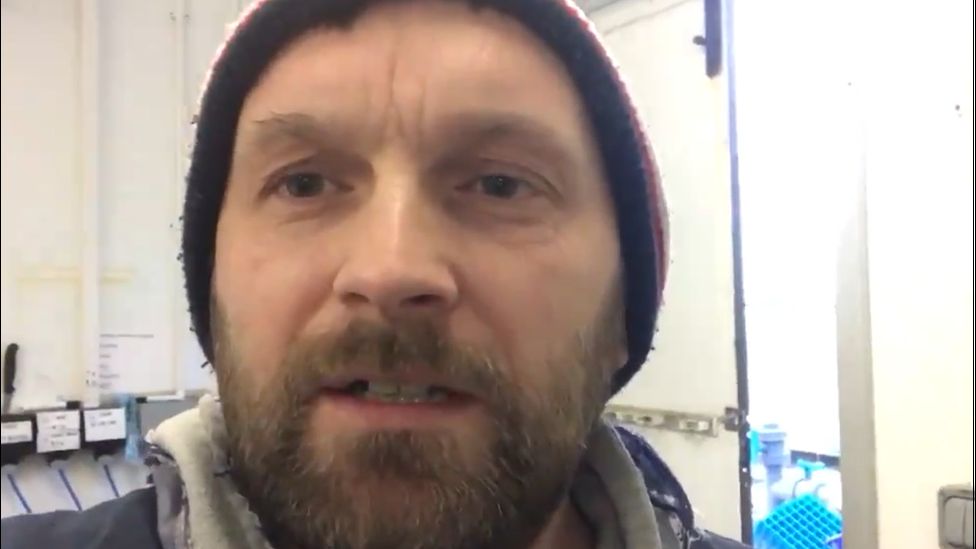 A Scottish shellfish firm has warned it is on the brink of bankruptcy as delays continue at ports following the introduction of post-Brexit red tape.
Lochfyne Langoustines managing director Jamie McMillan said his firm had already lost some consignments after they were found to be rotten by the time they arrived in France.
He also warned EU customers were now going to Denmark to buy langoustines.
Mr McMillan described it as a "very, very serious situation".
His comments came after transport company DFDS announced a further delay in exports of group consignments of seafood to the EU.
DFDS said it would not resume those exports until Monday.
Mr McMillan told BBC Radio's Good Morning Scotland programme: "We've been screaming for the last six months - eight months - that we have to get our produce to market within 12 to 24 hours.
"Any delays in that process, our shellfish will arrive in France dead.
"We lost two pallets last week. It took five days to arrive in Boulogne from Scotland, so our goods were rotten on arrival."
He added: "Customers are not buying from us any more - we have become unreliable suppliers.
"Everybody has stopped buying. This has happened for the past two weeks. We can't continue this to happen for another week because we will be out of business.
"We have had no sales to the EU, our biggest market for live shellfish, in the last two weeks.
"If we go another week without that, we are finished."
Mr McMillan said there were "sticking points" in both the UK and France, with transportation hubs in Scotland struggling with increased paperwork and checks by vets.
"There are sticking points down in France as well," he said.
"There are delays at the borders in France for up to 30 hours, I'm hearing, to clear customs by the time they do all their checks."
The UK government's Scotland Office minister David Duguid said he did not underestimate the struggles the industry was facing with paperwork, IT and ports.
He said the UK and Scottish governments, fish exporters and the EU needed to come together to work through the issues, which he estimated would last "weeks" and not months.
He told Good Morning Scotland: "What I can commit to is that the UK government, whether that's through Defra or the Scotland Office, we are working day and night in resolving the issues that we know about and that we can fix directly.
"The other issues that are maybe the responsibility of the Scottish government, or indeed the EU on the other side of the channel, Defra are engaging heavily with those parties as well."
However, when asked directly on the programme how long the problems would last, Mr Duguid responded: "How long is a piece of string?"
Fish ate up a lot of the time in negotiating the deal for departing the European customs union and single market.
Now grown to become a much bigger political predator, it has started the post-Brexit era by threatening to devour UK ministers with the task of making the deal work.
The fisheries minister admitted she was preparing for Christmas rather than seeing how the deal had turned out on 24 December. Asked how long it will take to sort out delays, a Scotland Office minister asked: "How long's a piece of string?"
The prime minister says there will be compensation, but it seems that is due to come from the fund intended to expand the fishing fleet.
And Michael Gove, who appears to have more of a grasp of the detail, was in the Commons on Wednesday, acknowledging there's a vast amount for the government yet to sort out - and that was only for Northern Ireland.
At least the province got a grace period before consignments of food require the paperwork now needed to send fish to France. That was sought by fish and meat exporters.
It's not clear if the request was made of EU negotiators, but it hasn't materialised. Yet coming the other way, the UK has given a six-month preparation period for EU exporters to Britain.
Because seafood is freshly delivered, it is the product that hit the obstacles first. Meat and dairy are sure to follow.
Beef exporters to Europe are beginning to face delays, while Brexit chickens are coming home to roast.