Scotch Whisky Association reports £500m loss after US tariffs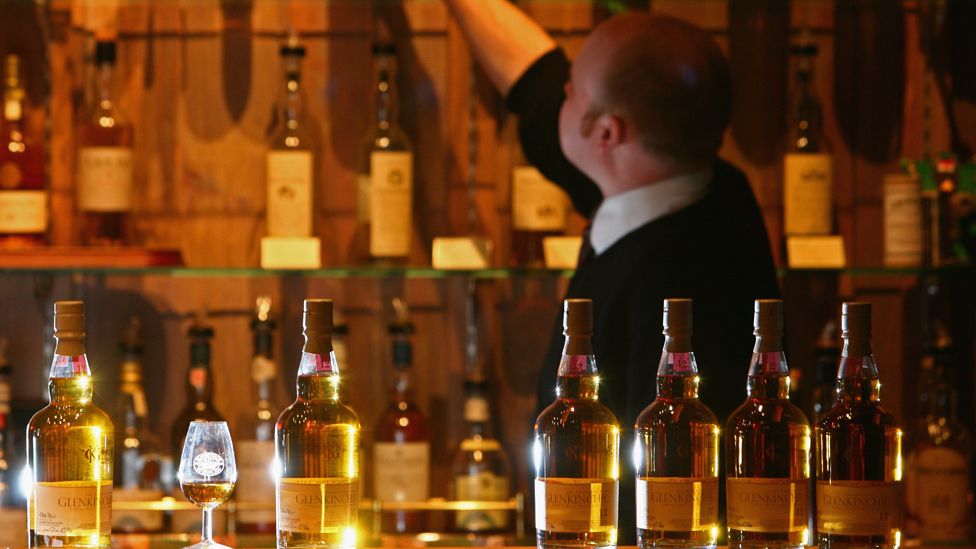 Losses to Scotch whisky exports have reached £500m as a result of tariffs imposed by the US, according to an industry body.
New figures suggest single malt exports have fallen by more than a third since a 25% tariff was imposed in 2019.
The Scotch Whisky Association (SWA) described the current situation as "unsustainable".
It also said distillers were "continuing to pay the price for an aerospace dispute that has nothing to do" with them.
SWA chief executive Karen Betts said: "Since tariffs were put in place, our exports to the US have fallen by 35%, amounting to over half a billion pounds in lost exports.
"This is being borne by large and small producers alike, who are losing sales and market share in what has been for decades the industry's largest and most valuable market, which they may never now recover."
American drinkers have shifted to spirits in a big way while told to "shelter in place" - their equivalent of lockdown. With beer consumption hit, most spirits have seen a big boost, led by tequila.
Diageo, the spirits giant, deployed its marketing jargon last week to observe the US market has seen "strong activations in the at-home occasion".
Whiskies have shared in the activation, except for Scotch, and that's in its biggest export market, where single malts have grown strongly. Those 25% tariffs targeted at Scotch malt have made Irish, Canadian and US alternatives relatively cheaper and helped their sales.
It might be that single malt drinkers shift to premium blends, which don't carry the tariff. That would help explain Diageo results, published last week and covering July to December last year, showing malts down 33% on the previous year, while its Johnnie Walker blended range was up 11%.
But an industry source says it's not like that for smaller distillers, finding that distributors in the USA have a reduced thirst for Scotch, if any of it - malt or blended - arrives with a price hike.
Scotch distillers fear the shift will be very hard to claw back. Removing tariffs will not see Scotch bounce back overnight. This proves a point they've made for years, that Scotch whisky has competitors, who can quickly grab market share.
Ms Betts added that it is hard for Scotch whisky producers to understand why the UK government is "unwilling" to comply with World Trade Organisation rules on aerospace subsidies.
She said: "Distillers are suffering terrible losses and still the government, after 16 years of unsuccessful litigation, is unprepared to take the necessary steps to ensure subsidies comply with the UK's international obligations."
Last month, Labour leader Sir Keir Starmer used a newspaper column to call on the UK Government to negotiate with the new US administration of President Joe Biden.
As well as calling for the immediate suspension of tariffs, the SWA wants more support for the industry given the difficult trading conditions as a result of Brexit and the Covid pandemic.
'Scottish producers have suffered enough'
A Department for International Trade spokesman said: "The Secretary of State for International Trade has led intensive talks with the US to get these unfair tariffs on UK exports removed.
"We will continue to push hard for a resolution that works for the whole of the UK - including our brilliant Scotch whisky producers.
"We have a clear strategy in place to de-escalate the dispute and we will work with the new US administration at the earliest opportunity to find a solution."
Scotland's trade minister Ivan McKee MSP said: "The damaging impact of these tariffs on businesses and communities is being felt across Scotland and is increasing, as the SWA's figures make clear.
"Scottish producers have suffered enough for something that has nothing to do with them and cannot wait any longer."
Related Internet Links
The BBC is not responsible for the content of external sites.