How will Scotland fare in the hydrogen revolution?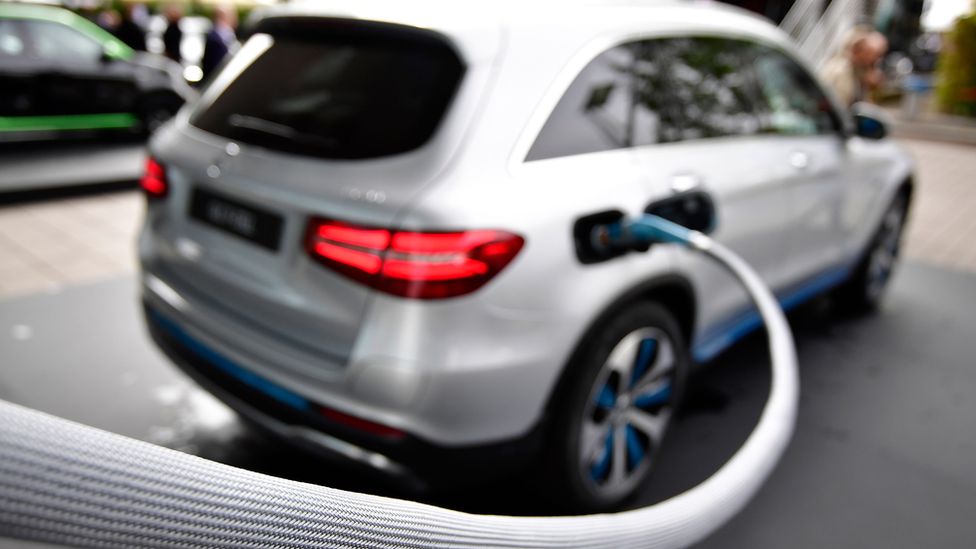 Hydrogen is arriving late to the massive energy transition already under way, but it promises to be a big part of what comes next.
Scotland has advantages in both 'blue' and 'green' hydrogen, both backed by the UK government. The Scottish administration is yet to choose.
The industrial benefits of the hydrogen industry could be widely dispersed, but a new report focuses on the Firth of Forth as being a good focus for net zero effort.
It's plentiful, but not that easy to isolate. And that's why hydrogen has only emerged slowly as one of the key pillars of the transition to low-carbon energy.
However, momentum is now building. After delays, the UK government has set out a strategy for building up its potential as both an energy source and a very large sector of the economy.
It reckons hydrogen could come to provide between 20% and 35% of the UK's total energy requirements.
Splitting it from the oxygen in water, through electrolysis, requires big industrial plants with a ready supply of energy. And once distributed, the vision is of 9,000 jobs by the end of this decade, and 100,000 by the middle of the century.
The question in Scotland is how much its energy advantages - renewable power, pipelines, proximity to gas resources, and energy engineering expertise - could put Scots at the heart of that industrial revolution.
Hydrogen's most likely uses, at least initially, are in heavy industry, and in heavy transport including trucks, buses and rail. Aberdeen already has a fleet of hydrogen buses.
It could also be a gamechanger in home heating, if the technology can allow for a transition from natural gas.
That's an appealing prospect to gas distribution companies such as SGN. Gas supply can include around 10% hydrogen content, and the existing pipe network could be adapted for an all-hydrogen supply.
There is a localised trial under way in the Leven and Methil area of Fife to see how that could work. A desktop exercise is being carried out to see what would happen if the entire east of Scotland SGN pipeline network were shifted from gas to hydrogen.
Not all the experts see its potential in heating, preferring the electric option. And it is not clear that cars are an appropriate vehicle for it either. It can be done, but not that efficiently.
However, in the huge research and investment effort to move away from burning diesel and petrol, that doesn't mean there won't be significant efforts to switch light road transport to hydrogen power.
The big challenge remains the energy required to isolate it from the oxygen in water.
'Green hydrogen' does so using power from renewable sources, such as wind. A lot of wind is required, and the ambition for the scale of the hydrogen industry would take up a large part of planned wind capacity.
'Blue hydrogen' is a less attractive option, but an important part of the plan. It requires the burning of gas or oil to do the electrolysis.
The Acorn project, or 'Scottish cluster', being planned for the Aberdeenshire coast around St Fergus, would use gas from the North Sea. That is already where 35% of the UK's gas needs meet landfall.
If the plan works out, and it's currently bidding for a share of £1 billion in UK government support, that would divert gas into creating hydrogen, with capture of the carbon emissions that result. The idea is then to process that carbon and deploy the pipeline network to store it in emptying oil and gas fields.
Blue hydrogen is clearly a large part of the UK government's strategy. The backers of the Acorn project see it as a necessary part of the transition because renewables take longer to scale up.
The Scottish government is yet to produce its own strategy for hydrogen beyond the general statement of support set out last year. While it will want to talk up the role of renewable power, it will probably also have to strike a balance with blue hydrogen, and is supporting the Acorn project in its competition with three other bidders for government funding.
Some of the policy levers for making this happen required the UK government to set out its plans. That includes safety standards (hydrogen is very combustible) and the financial incentives to drive down costs of building the electrolysers: as with offshore wind, 'contracts for difference' will be offered.
Companies bid for a contract to produce hydrogen (or wind power) at the lowest cost they think they can deliver it. Only if the price falls below that does a subsidy kick in, which is paid by energy bill-payers. The lower the price at which energy firms bid, the less subsidy is required.
The hope of the industry in Scotland is that its combination of renewable power, gas, access to carbon storage capacity and its energy skills could make it the location for Europe's cheapest hydrogen.
A report published this month by Scottish Enterprise set out the strengths of Scotland's potential, but also the threat from other rivals. Other European nations are already ahead of the UK in this, and Norway has formidable potential.
Big producers, at lower cost, could also include North Africa, Chile and Australia, using solar power. And Canada has similar attributes to Scotland.
The report set out the best places where industrial hydrogen hubs could develop, often where oil, gas, nuclear or renewable energy are already clustered: Shetland, Orkney, Stornoway, the Cromarty Firth, Aberdeen, St Fergus with Peterhead, Grangemouth with Mossmorran in Fife, Torness or Cockenzie in East Lothian, Hunterston in North Ayrshire, Chapelcross in Dumfriesshire, Stranraer, Campbeltown and Stranraer. The message is that there could be very dispersed benefits from the industry.
Meanwhile, economic consultants Wood Mackenzie see more of a benefit in focussing attention on the Firth of Forth - not just for hydrogen but as a 'net zero hub'.
A report published at the same time as the hydrogen strategy highlights the benefits of such hubs on Teesside, the Humber and north-west England.
But although there has been a lot of other activity on renewable power, WoodMac notes that Scotland has not joined up the new technologies with support for some older ones. The Firth of Forth has 10% of the Scottish economy and a lot of the activities that would make a good hub, including a warm welcome for the consultancy report from Forth Ports, which represents many of the gateways along its coastline.
That would mean linking those that have low-carbon know-how with those with high energy needs, including steel, cement, refining and petro-chemicals.
Not to address that connection is to risk the departure of big energy users to locations where they're less bothered by the net zero targets.