Slight increase in Scotland's employment rate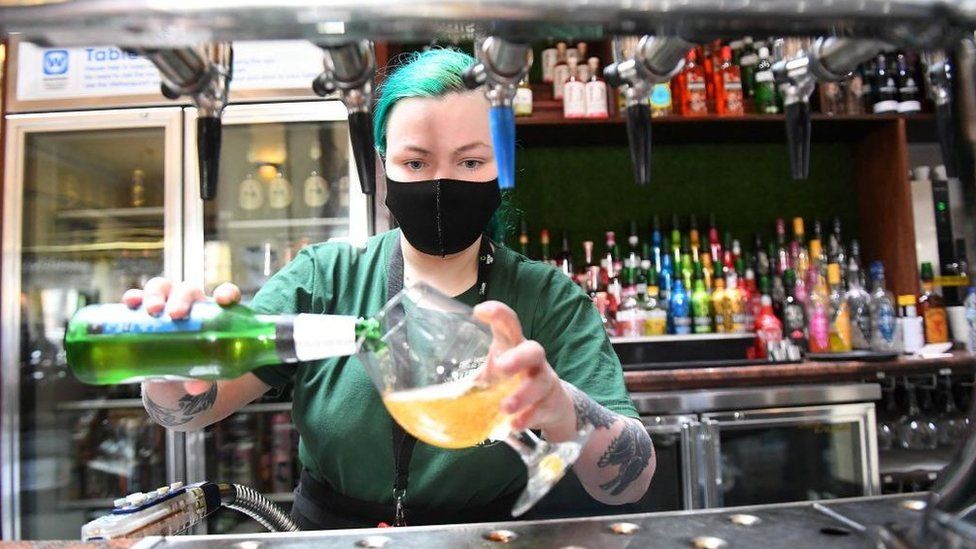 The number of people in work in Scotland rose slightly during the summer as job vacancies hit a record high, according to official figures.
The employment rate of 74.1% is 0.2 percentage point up on the previous quarter but still 1.3 percentage points lower than pre-pandemic levels.
A total of 118,000 people in Scotland were unemployed - a rate of 4.3%.
That marks a 0.1 percentage point fall on the previous quarter and a decrease of 0.6 percentage points on the year.
Across the UK, there was an employment rate of 75.2% and vacancies rose above one million for the first time.
Meanwhile, HMRC estimates show there were 9,000 more payrolled employees in August than July 2021.
However, this is 25,000 fewer than in February 2020 - the month before the first coronavirus lockdown.
Employment minister Richard Lochhead said the HMRC figure "reflects our gradual ongoing economic recovery from the pandemic".
The figures have been published ahead of the winding up of the Job Retention Scheme - furlough - at the end of this month.
Mr Lochhead called for clarity from the UK government about what further assistance would be in place to support those affected by the pandemic.
"The furlough scheme has provided essential support to businesses and workers throughout the pandemic and is still needed as we move through recovery," he added.
Furlough kept flight attendant afloat while considering next move
Ayrshire's Wee Fish Van is a small business that's really taking off.
Owner Bernadette McQuade was a long-haul flight attendant until she was put on furlough last year and then took redundancy.
She is still covering the miles but now it is in her fish van.
"We were all put on furlough as soon as everything stood at a standstill," she said. "Then BA opened up redundancy. I had more than 22 years' service. I loved it. I got to see the whole world and experience different cultures."
When she left the company, her partner Douglas, a trawlerman working from Peterhead, suggested she run a fish van.
"He said I should sell fish and I said 'I don't think so'," she said. "I was in a glamorous job, travelling the world.
"But we bought a van and now I do love it. It's cold in the winter and I miss the white sands but I get to meet a lot of people and a lot of people support me and it's great."
Bernadette started last December and now has a second van on the road, manned by a former cabin crew colleague who also loves her new job.
Although life has taken a different turn, Bernadette sees similarities.
"It compares in the sense that I am still working with the public. That was the whole reason I joined British Airways, to work with the public.
"And now I am out and about in the fresh air, meeting new people and building up relationships.
She does still get to travel.
"I go to Arran on a Wednesday and Millport on a Thursday," she said. " It's not quite the Bahamas but it almost is - I get a good laugh and every time I go to Arran the sun always shines."
Related Internet Links
The BBC is not responsible for the content of external sites.