Government contracts 'killing off' construction industry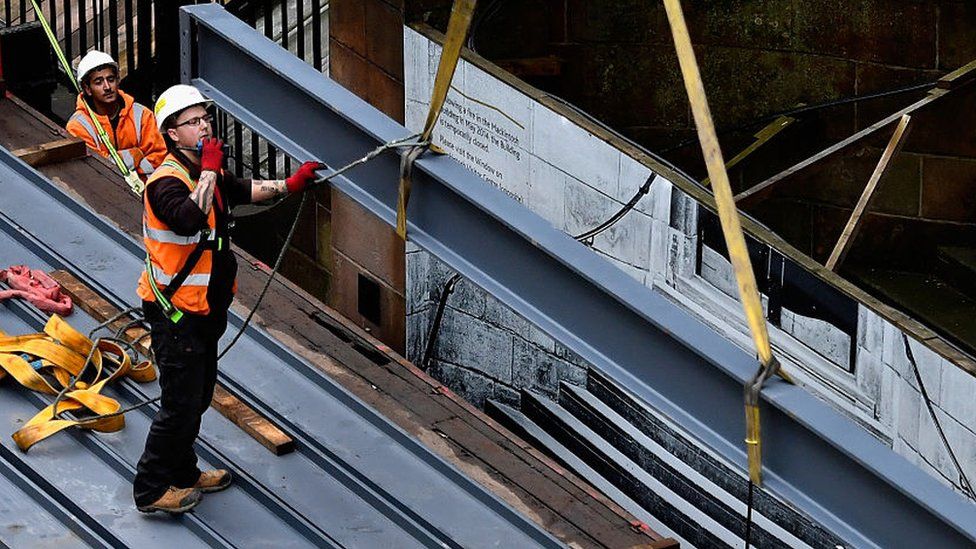 The construction industry in Scotland is being "killed off" by government contracts that drive down prices, a senior figure has said.
Andrew Richards, of the Scottish government's construction industry leadership board, said unsustainable pricing forced firms out of business.
He told MSPs it was impossible for the industry to get the "transformation" that ministers want for it.
The public sector provides around half of the building contracts in Scotland.
Mr Richards cited pressures to adopt fair work conditions for contracts and apprenticeships.
He also said the industry was under pressure to build to more exacting standards of energy efficiency.
"There is still this tendency to stick to what the industry has done for years, which is to go out and get the cheapest tender you can," he said.
"Our view is that's so narrowly focussed on your specific need in that local authority. The wider implications are [that] you're killing the industry further, you're not encouraging transformation."
Mr Richards said the leadership board, set up earlier this year, had sought ways to improve the supply of scarce construction materials from Scottish manufacturers.
However, he told the Scottish Parliament's economy and fair work committee that little was possible, due to complexity and the testing regime required for construction materials.
He said the Scottish marketplace was not sufficient to support that level of manufacturing and cost pressures pushed builders into using imported goods.
Meanwhile, problems of supply, a shortage of heavy goods drivers, high shipping costs and lack of farm workers were raised at Holyrood's business committee.
The Scottish Retail Consortium told the committee that it was concerned about rising grocery prices.
Policy director, Ewan MacDonald-Russell, said: "In the short term, we're really, really struggling. The CO2 challenges this week show how little slack there is in the system.
"That may have impact on the wider economy, particularly if we see lots of different measures and costs coming in. It's going to be very hard for those costs not to be passed on to consumers."
He said the retail industry also faced problems in the run-up to the festive shopping season.
"Retailers will be absolutely desperate to get goods into stores. It's the huge trading period of the year," he added.
"But there are huge international challenges. Shipping costs are up and shipping disrupted. When combined with HGV and the ongoing economic challenges, it's going to be really hard."
The retail industry body is calling for a part continuation of the business rates holiday, and no increase to income tax for lower and middle earners, to sustain demand.
It is also calling for the Scottish government to follow Northern Ireland's lead, in stimulating demand with vouchers for spending in town and city centre business.
The committee also heard that container shipping costs between Asia and Europe are up as much as ten-fold.
Martin Reid, Scottish director of the Road Haulage Association, told MSPs the logistics sector, from warehousing to lorry drivers, was short of staff, putting upward pressure on pay and costs.
The Scottish government has been approached for comment.