Mental health charity calls for future of work commission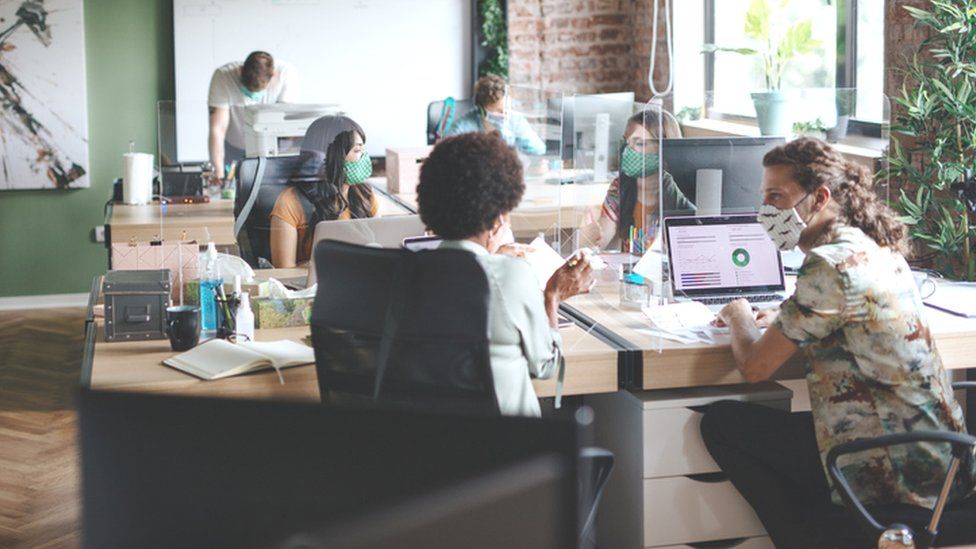 A leading mental health charity has called on the Scottish and UK governments to set up a commission to help improve workplace wellbeing.
Mental Health Foundation in Scotland (MHF) said a Future of Work Commission could help ensure post-pandemic labour practices support mental wellbeing.
Its suggestions include exploring the benefits of shorter working hours.
The charity would also like to see new measures brought in to reduce job insecurity.
The call came as the UK government's furlough scheme aimed at protecting workers' jobs drew to a close.
MHF envisages a commission composed of public and private sector employers and workers, as well as government and mental health group representatives.
Although employment law is a reserved matter, the Scottish government operates a fair work strategy which includes the devolved employment support service, Fair Start Scotland.
MHF in Scotland senior policy manager Toni Giugliano said the Scottish government had already taken some positive steps on wellbeing, with the creation of a new Mental Health and Employment working group.
But he argued that the end of the furlough safety net and the removal of the Universal Credit uplift by the UK government meant more needed to be done "to reassure and protect people in these uncertain times".
Mr Giugliano said: "Poverty, job insecurity and under-employment are among the root causes of poor mental health.
"We need to do all we can to ensure that no person in Scotland finds themselves at further risk due to the pandemic.
"Establishing a more visible and vocal Commission for the Future of Work will confirm the Scottish government's commitment to safeguarding the wellbeing of workers across Scotland in the post-pandemic years and beyond.
"It will enable us to bring more representatives and organisations from across public and private sectors, including workers, together to inform and drive the policy decisions that will reset our working lives in a positive way that supports both good mental health and economic productivity."
The call for a commission was backed by another mental health charity.
Gordon Mcintyre, founder of Hospitality Health, which works with employers in the sector, said: "We very much agree with the idea of a commission which would support all industries to create a better work-life balance and wellbeing for all employees.
"There has never been a time in the industry that staff have needed mental health support more.
"The wellbeing and mental health of the staff in the sector has been pushed considerably in the past 18 months as a result of the pandemic."
Melanie Simms, Professor of Work and Employment at the University of Glasgow, said a Future of Work Commission was "a very interesting proposal".
"It's undoubtedly the case that many people have experienced challenges to their mental health during the pandemic and associated restrictions," she said.
"Issues including job insecurity, health and safety, furlough and similar have all taken their toll on many people's mental health.
"As always with employment issues, it is really important that there is an effective way to integrate the voices of workers and employers.
"The benefit of this kind of commission is that it allows space for people with different perspectives to come together to discuss the problem and work out what they can agree on moving forward."
Responding to the charity's call, the Scottish government said it was "always open to listening to ideas on how we can go even further to support people to enter, and stay in, fair and sustainable employment".
A spokesman said: "Scotland's devolved employment support service, Fair Start Scotland, includes the provision of Individual Placement and Support (IPS) for those with severe or enduring mental health issues.
"We recently commissioned a review of IPS to consider the most appropriate approach to delivery in Scotland going forward. The findings and our response will be published before the end of the year.
"We know that the pandemic has been distressing for many people. Our Mental Health Transition and Recovery Plan lays out key areas of mental health need, including those around employment that have arisen as a result of Covid-19 and lockdown.
"This is backed by our £120m Mental Health Recovery and Renewal Fund, which is the single largest investment in mental health in the history of devolution."
A UK government spokesman said: "We are fully committed to protecting and enhancing workers' rights in Scotland and across the UK, and ensuring modern working practices support workers' mental wellbeing.
"In the past 18 months alone, we have introduced parental bereavement leave, protected new parents on furlough, given 150,000 Scottish workers a pay rise through a higher minimum wage and begun a consultation on making flexible working the default unless employers have good reason not to."