Stagecoach and National Express agree to merge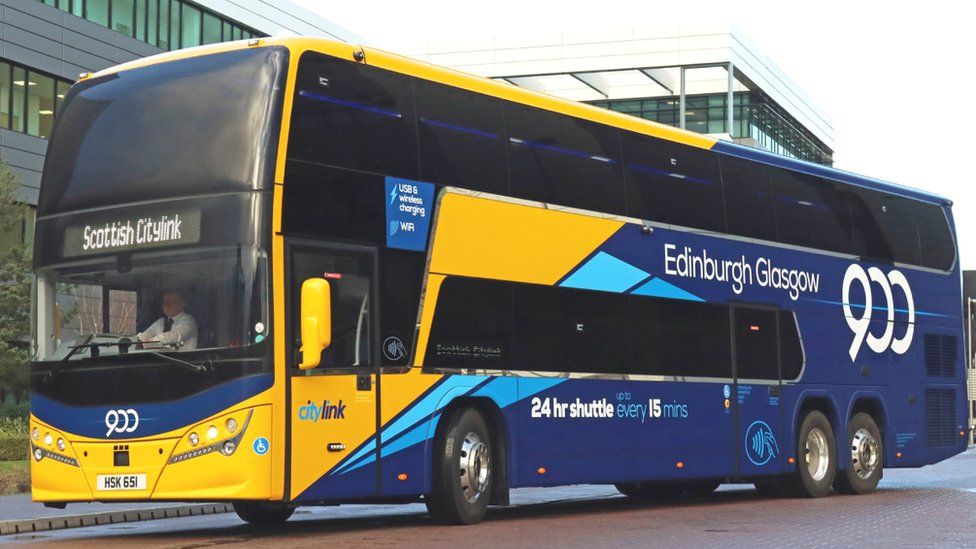 Rival bus groups Stagecoach and National Express have agreed to merge.
The deal, which involves an all-share takeover by National Express, comes after talks between the transport giants were revealed in September.
It will create a combined firm worth about £1.9bn, with a fleet of about 40,000 vehicles and a workforce of about 70,000.
Under the deal, National Express shareholders would own about 75% of the combined group and Stagecoach 25%.
The proposal, which will be voted on by shareholders, values Perth-based Stagecoach at about £437m.
About 50 jobs are expected to be cut from the head offices, IT and corporate departments of the two firms, under plans to slash annual costs by at least £45m following the merger.
But the companies stressed there would be no job losses among drivers, or depot closures, as a result of the deal.
It's 41 years since a nurse, Ann Gloag, and her brother Brian Souter, a former bus driver, began Stagecoach, and tapped into the newly privatised, deregulated bus market.
Stagecoach grew to be one of the dominant transport companies in Britain, partnering with Virgin on railways, and with overseas operations from the USA to Malawi.
But it's scaled back to city buses, and the founders - now titled, Dame Ann and Sir Brian - have been reducing their stakes to just over a quarter between them. That's worth more than £100m.
Merger with the long-haul, Birmingham-based coach operator National Express means the loss of one of Scotland's big corporate headquarters, and overlap of management roles means at least some jobs are likely to go at its Perth head office.
In the race to become chief executive of the combined group, Martin Griffiths has lost out to his opposite number, Ignacio Garat.
The country's other one-time transport giant, FirstBus, is now also on a much smaller scale at its Aberdeen headquarters, having also sold its US school bus and transit operations.
The business case for a merger has to do with deeper pockets for investment in new fleet, as buses shift to battery and possibly hydrogen, and as the market for rail is being reformed.
This is being presented as a good time to invest in public transport, when governments are devising policy to reduce carbon emissions from private transport.
National Express wants to tie its commuter and shuttle bus operations into Stagecoach's city and town services, and to use the Scottish firms network of depots.
It also sees a £1.5bn pipeline of potential future investment, including overseas. While Stagecoach has retreated, National Express is still in the USA and has a stake in German rail.
The deal also signals the wind-down of an empire built by one of Scotland's most successful entrepreneurs. Sir Brian Souter, now aged 67, was also one of the investors in Alexander Dennis bus-builders in Falkirk, and instead of seeking to expand internationally, that was sold to a Canadian transport group.
Under the deal, Stagecoach will sell off its Megabus UK and Falcon South-West coach service operations, as well as its 35% stake in Scottish Citylink bus services.
Stagecoach chairman Ray O'Toole will become chairman of the merged group, while National Express chief executive Ignacio Garat will keep the same role at the merged firm.
The merger comes as both firms have been hit hard by the pandemic, with passenger numbers slumping due to lockdowns, remote working and a switch away from public transport.
Government support to help transport firms through the crisis is also due to end soon.
Stagecoach chief executive Martin Griffiths said: "This is an exciting opportunity to bring together two of the UK's iconic transport brands to create a strong, diverse business that is well-placed to grow the market for greener and smarter public transport for the benefit of all stakeholders."
National Express has bus and coach networks across the UK and Spain, while it also runs school bus services in America and a rail franchise in Germany.
Stagecoach is UK-focused and is Britain's biggest bus and coach operator.
The companies said they expected the deal to be completed around the end of next year.