Troubled shipyard's turnaround director Tim Hair to leave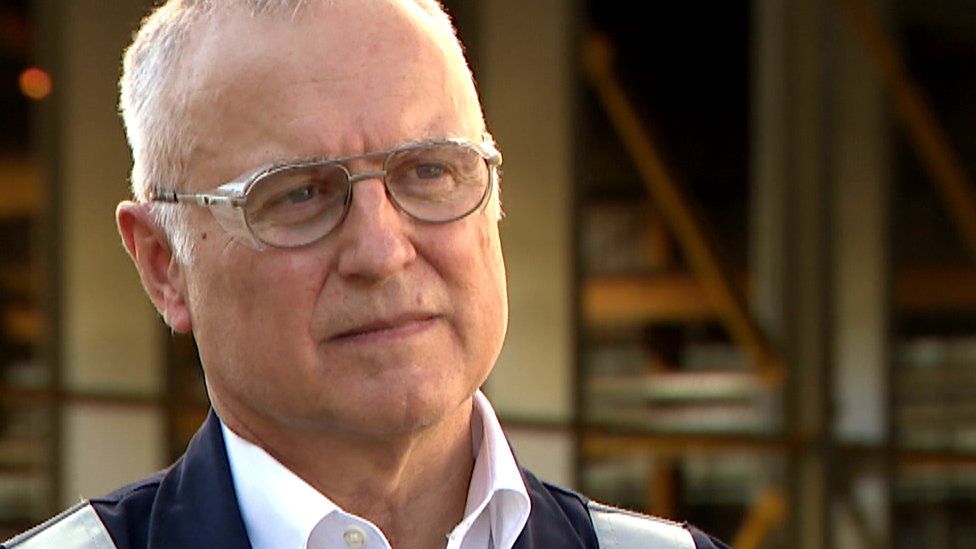 The man brought in to improve the fortunes of the nationalised Ferguson Marine shipyard is to leave next year, it has been announced.
Tim Hair, who spent two years as turnaround director, will be replaced by a new chief executive in February.
He was appointed after the shipyard went back into administration in 2019.
The new chief executive will be David Tydeman, who has worked for several decades in the marine, shipbuilding and offshore industries.
Mr Hair was appointed in 2019 after the shipyard was wholly taken over by the Scottish government.
He was tasked with implementing a major transformation programme for the troubled shipyard, which recently missed out on an order to build two new CalMac ferries.
He was also asked to stabilise operations, deliver on five ships - two of them large CalMac ferries and three much smaller ones - and then prepare the yard for a sustainable future.
A Freedom of Information Act inquiry showed his pay for this work recently rose to £60,000 a month.
The Port Glasgow shipyard first went into administration in 2014 before being taken over by businessman Jim McColl.
It has since been extensively modernised, but the business has faced problems over an order for two CalMac ferries, placed in 2015, which are now long overdue and over-budget.
Glen Sannox is currently due to be delivered in the second half of next year, more than four years late, with the two ships costing the taxpayer more than double the original contract price.
Mr Hair recently told the BBC that investment was continuing at Ferguson Marine and he was confident the yard would be competitive by the time it wins its next major order.
Mr Tydeman's appointment will see him return to shipbuilding on the Clyde.
He started his career as a Lloyds Register surveyor at a Govan shipyard after graduating as a naval architect at Southampton University in 1976.
Between 2008 and 2018, he was group chief executive at luxury yacht builder Oyster Yachts before spending 18 months as chairman at another yacht company.
He has since been providing consultancy services for several luxury yacht construction projects.
Ferguson Marine chairman Alistair Mackenzie said it was "the right time to welcome a permanent and longer-term leader".
He added: "The board and wider team at Ferguson Marine extend our thanks to Tim Hair for his leadership, expertise and commitment over the past two years.
"It has been challenging, not least because of a global pandemic, but he has implemented a series of important changes, systems and controls and built an experienced and skilled team to strengthen the business and establish a solid footing for growth."
Economy Secretary Kate Forbes said that appointing a permanent chief executive was "an important milestone" for Ferguson Marine and reflected "the progress made since the Scottish government stepped in to save the yard and the jobs".
"David Tydeman brings four decades of industry experience and senior leadership to Fergusons and will be key to securing our long-term ambitions for the yard," she said.
"I want to thank Tim Hair who, alongside his team, has worked tirelessly to turn Fergusons around by ensuring the yard is fit for purpose, is working to complete the vessels and will win future contracts.
"Tim Hair and his team have helped set Fergusons on that long-term path towards securing a sustainable future."