Trump golf resorts at Turnberry and Balmedie lost £4.4m in 2021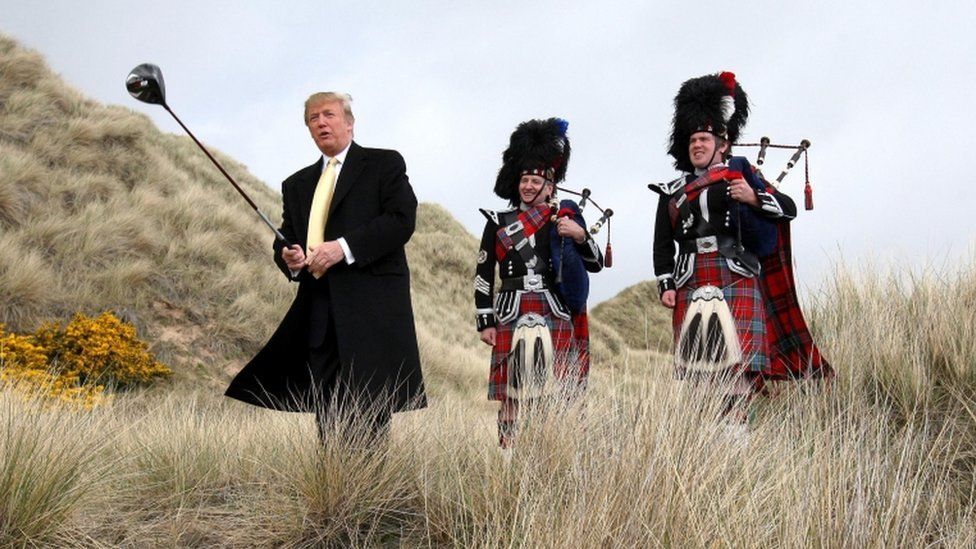 Donald Trump's two Scottish golf resorts reported losses of £4.4m in 2021, according to newly-published financial accounts.
Turnberry, in South Ayrshire, was more than £3.7m in the red.
And the golf resort at the Menie Estate in the Balmedie area of Aberdeenshire - which opened in 2012 - reported losses in excess of £696,000.
SLC Turnberry, which manages the Ayrshire site, said closure during Covid contributed to pre-tax losses.
The companies operating each golf course received a total of just over £1m in Covid payroll support from the UK government.
The Turnberry accounts, for the financial year ending 31 December 2021, said the property was closed for the first three months of the year.
Upon re-opening, there was said to be a "significant" increase in staycations due to travel restrictions.
With many wedding and functions rescheduling, there was confidence the future of the resort was "strong".
The former president's son Eric Trump signed off the accounts for the Turnberry course as a director of the company.
"Brexit has impacted our business as supply chains have been impacted by availability of drivers and staff, reducing deliveries and the availability of certain product lines," he wrote.
Eric Trump also said staff availability had been a "challenge" due to wage inflation caused by "increased business levels" in the retail and logistics sectors, adding the "staffing pool" had been indirectly affected by Brexit "with lack of access to European staff for businesses in general resulting in greater demand for the individuals previously available at the resort".
Donald Trump bought the Turnberry golf resort from a Dubai-based company in 2014.
He handed over control of both courses to his sons shortly before he became president in 2017, but retained a financial interest.
Trump International Golf Club Scotland operates the club Mr Trump built north of Aberdeen.
It opened amid opposition over potential environmental damage.
Related Internet Links
The BBC is not responsible for the content of external sites.