Scottish prison education action call by Lib Dems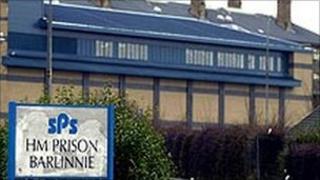 The Liberal Democrats have called for action to increase the "disappointing" number of prisoners who take part in education programmes while behind bars.
The Scottish party said figures showed an average of 2,651 prisoners attended learning centres in 2009-10.
At Kilmarnock Prison only 15% of inmates took classes, while just 17% attended at Glasgow's Barlinnie Prison.
But the Scottish Prison Service said prisons were providing a wider range of educational opportunities than ever.
The Lib Dems also highlighted figures showing that in 10 jails less than 40% of all prisoners were taking some form of educational or work course.
Party justice spokesman Robert Brown said: "It is disappointing that prisoners are not taking up the opportunity to learn new skills or learn toward a qualification while behind bars.
"It confirms the long-held belief that prisons can be colleges of crime where prisoners often come out worse than they went in."
He added: "The Scottish government needs to make diligent efforts to ensure that far more prisoners engage with the skills on offer."
A Scottish Prison Service spokesman said it undertook "significant motivational work" with prisoners to encourage them to take up educational opportunities.
He added: "In addition there are many work opportunities to improve offenders' long-term prospects. We also provide a variety of programmes and interventions targeted at the risks and needs of the offenders, which are aimed at contributing to reducing re-offending."