UK call to end Scots free nursery milk scheme abandoned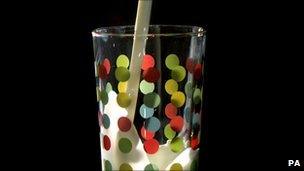 UK Department of Health calls to scrap free nursery milk in Scotland have been ditched by Downing Street.
Westminster has powers to end free milk, yet the cost of the scheme in Scotland is met by Holyrood.
In a letter to the Scottish government, UK Public Health Minister Anne Milton said the scheme was costly and there was no evidence of health benefits.
But Downing Street scrapped the move after it emerged Prime Minister David Cameron was not aware of the proposals.
Scottish ministers had already registered strong objections to ending the initiative. The Scottish National Party called for Ms Milton to stand down.
Ms Milton outlined plans to replace the scheme by increasing the value of Healthy Start vouchers, which are targeted at pregnant women and young children from low income families.
The vouchers can be spent of fruit, vegetables and milk.
Statutory free milk for nursery children is the surviving remnant of a much wider welfare food scheme introduced in 1940.
In the letter, Ms Milton said the government was looking at abolishing the Nursery Milk scheme by April 2011 and added that she would also be writing to the Welsh and Northern Irish health departments to hear their views.
She said the cost of the scheme had almost doubled in the past five years.
The minister said the government expected opposition to the measure from the media, parents, nurseries, childminders and the dairy sector, adding: "Abolition of the scheme is likely to be highly controversial, particularly as this will affect some children in low-income families."
But she said: "This should not prevent us from ending an ineffective universal measure - and this would clearly be the best time to do it, given the state of public finances and the need to make savings."
However, on Sunday morning aides to Mr Cameron made clear that he "did not like the idea" of cancelling free milk, and that it would "not be happening".
Scottish Health Secretary Nicola Sturgeon said she had written to the Westminster Department of Health asking them to withdraw the "very damaging" proposal as soon as possible.
"It is vital that children get the best start in life and improving infant nutrition is a huge part of that - not to mention the effect better infant nutrition has on improved health and wellbeing in later life," she said.
"Providing milk in nurseries is critical to this continued improvement, and we believe it must continue to be an option for children aged one to five every day."
SNP MSP Angela Constance said the decision by Downing Street was effectively a "vote of no confidence" in Ms Milton and her department.
"After such a comprehensive put-down, Anne Milton has no choice but to consider her position. Her clearly stated policy has been poured down the sink by Downing Street because it was rumbled in Scotland, and she has no credibility left as a public health minister," she added.
In a statement issued earlier, a Department of Health spokesman said scrapping the scheme was one of the options it had been looking at as part of its Spending Review.
Tam Fry, chairman of the Child Growth Foundation and spokesperson for the National Obesity Forum, said children benefited from the free milk.
He said: "They need milk more to do with their growth and their cell growth, and also to supply some of the nutrients and vitamins which are so vital to growing children. And the fact that it was brought back was very conducive because in fact when the milk was not available there was a marked decrease in the growth of children."
Related Internet Links
The BBC is not responsible for the content of external sites.