Finance Secretary John Swinney 'ready for budget cuts'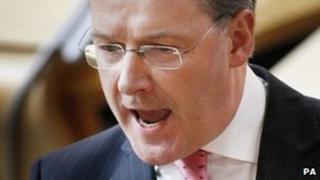 The Scottish government has undertaken early preparations to deal with the challenging financial climate ahead, according to John Swinney.
The finance secretary was responding to calls to show greater leadership and urgency in dealing with budget cuts.
Responding to a Holyrood committee report on next year's budget, he said economic recovery, public services and cutting emissions would have priority.
The finance committee warned Scotland's budget may be cut drastically.
The cross-party report, published in June, said dealing with forthcoming cuts could amount to "the most significant challenge" faced by both the Scottish government and Scottish Parliament since devolution.
Mr Swinney said that in the past three years the SNP had tightened pay policy, reduced the number of public bodies, exceeded efficiency targets, delivered procurement savings, reduced administration budgets and halved marketing spending.
He added: "With Scotland's budget forecast to shrink by £3.7bn in real terms over the next four years as a result of Westminster spending cuts, our budget priorities are to promote economic recovery, protect services on which the public depend and develop a low carbon Scotland. "
He also said the Independent Budget Review, published last week, demonstrated an "unprecedented level of openness and transparency" in discussing spending cuts.