Liberal Democrat MSP Nicol Stephen to stand down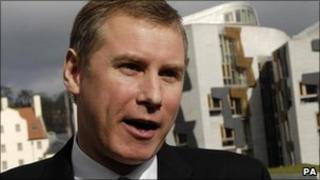 The former Deputy First Minister and leader of the Scottish Liberal Democrats, Nicol Stephen, is to stand down at the Scottish elections in May.
Mr Stephen, who served three terms as MSP for Aberdeen South, was deputy to Labour First Minister Jack McConnell from 2005 to 2007.
The father-of-four stood down from the party leadership in 2008, citing the strain it was placing on family life.
It is thought he will pursue a career in business, possibly in renewables.
Mr Stephen told BBC Scotland: "It's been a great honour and privilege to represent Aberdeen South over the last 11-and-a-half years, and also to have led the Liberal Democrats in Scotland and been a member of the government when the party was in coalition.
"But I've decided now it's time to move on and to face fresh challenges.
"My focus over the next seven months is still going to be on the Scottish Parliament and representing the people of Aberdeen South, and there are still some important campaigns to be fought and won."
The 50-year-old said his decision had nothing to do with the Liberal Democrats forming a coalition government with the Conservatives in the UK Parliament.
"I don't think anyone expected the result that we had in Westminster, but I'm a strong supporter of Nick Clegg and the coalition government," he said.
"I think it's far better for the UK at the moment to have a coalition Conservative and Liberal Democrat government than to have David Cameron and the Conservatives ruling on their own."
Mr Stephen, who was first elected as a local councillor in 1982, said he would continue to be involved in local politics.