Holyrood election ballots to be counted by hand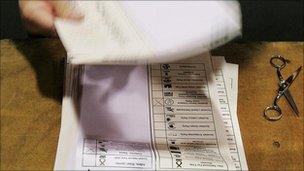 Ballot papers for next May's Scottish elections will be counted by hand, in the wake of the 2007 voting fiasco.
The last Holyrood election, which made use of electronic counting, was hit by problems which resulted in more than 140,000 spoilt ballot papers.
There will also be a return to two separate ballot papers for the regional list and constituency contests.
There will be a bigger gap between the close of nominations and polling day, allowing more time for postal voting.
The problems which besieged counting in 2007 also resulted in the suspension of a number of counts across Scotland, and an independent review later concluded voters were "treated as an afterthought" in the planning and organisation of the polls.
Scottish Secretary Michael Moore, who is in charge of Holyrood elections, said: "There is no doubt public confidence needs to be repaired after the problems that were experienced in 2007."
Other changes include a move to display registered party names first on the regional ballot paper, followed by the party description and an option to use the preface "Scottish".
In 2007, the SNP used the phrase "Alex Salmond for first minister" on regional ballot papers.
An order has now been laid before the UK Parliament to make the changes.
Electronic counting will continue to be used in council elections, the running of which is devolved to Scotland.
Related Internet Links
The BBC is not responsible for the content of external sites.