Scottish Labour criticises NHS 'luxury cars'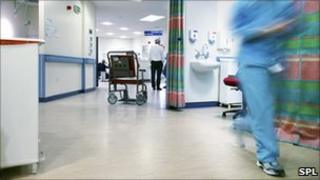 Scottish health boards have spent almost £11m on leasing vehicles last year including Jaguars, Mercedes and BMWs, figures have revealed.
The figures obtained by the Scottish Labour Party indicated that more than 7,000 vehicles were hired.
The party's health spokeswoman, Jackie Baillie, has called for a review of vehicle-leasing schemes.
The Scottish government said it was up to NHS boards to manage their own budgets and get best value for money.
The figures obtained by Labour through Freedom of Information requests showed that NHS Greater Glasgow and Clyde had the biggest bill, spending £3.4m on 2,460 vehicles for staff in 2010.
NHS Orkney paid the least, renting just three vehicles for about £7,000.
Ms Baillie said: "These figures are astonishing. Of course, staff like district nurses need to be provided with a car so that they can do their job and visit patients.
"But it simply doesn't make sense to spend nearly £11m subsidising senior managers to drive BMWs and Mercedes when health boards are being forced by budget cuts to reduce the number of nurses.
"If Labour forms the next government in Scotland we will review this scheme to ensure that NHS resources are spent on improving patient care and not on perks for executives."
Value for money
A Scottish government spokeswoman said patient care was a priority.
"It is up to NHS boards to manage their own budgets and to ensure that frontline services are delivered as efficiently and cost-effectively as possible," she said.
"Health boards, like all public bodies, are expected to get the very best value for money from every penny out of the taxpayers' purse."
The bill included vehicles leased by the Scottish Ambulance Service, State Hospital, Golden Jubilee Hospital and NHS Education for Scotland.
Not all health boards provided figures for the amount they had spent.