Doctor banks aim to cut NHS Scotland costs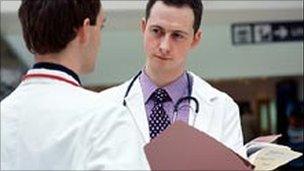 A system of doctor banks is to be introduced in Scotland in an effort to cut the amount spent on agency staff.
Guidance has been sent to Scotland's health boards detailing the steps they need to take to cut down on the level of agencies covering doctors' shifts.
Under the plans, NHS-recruited doctors would be used to supplement staffing rotas where needed.
A similar scheme for nurses cut spending on agency staff from £30m in 2003-04 to £8.2m in 2009-10.
The NHS nursing banks provide an internal pool of staff who can be called on at short notice to cover both planned and unplanned absences.
Spending on agency locum doctors increased in Scotland from about £18m in 2006-07 to £36m in 2009-10.
A spokesman for NHS Scotland said agency doctors could cost up to £104 an hour, compared with £11 an hour for internal staff.
Health Secretary Nicola Sturgeon said: "Using agency locums is extremely expensive with health boards currently spending up to £36m a year on locum staff.
"We have already seen this cost reduce by £3m in the last quarter alone through use of the national supplier contract, service redesign and planning by boards.
"We need to ensure that where it is necessary to use temporary medical staff, that they are of the highest quality, so that patients get the best possible care. They must also represent good value for money."
An Audit Scotland report, published in June 2010, said using agency doctors brought a potential risk to patient safety and claimed that reducing spending on locums would lead to improved standards for patients.
Ms Sturgeon said: "The work on supplementary medical staff and the introduction of NHS doctor banks mean that health boards can be confident in the skills and ability of the doctors they hire and help to bring down costs."
Related Internet Links
The BBC is not responsible for the content of external sites.