Scottish election: Energy issues drive island voters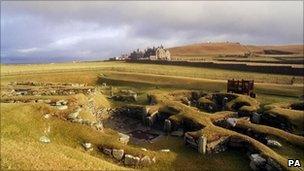 With the Holyrood election campaign in its third week, BBC Scotland's Good Morning Scotland reporter Kevin Keane continues his journey to find out what matters to ordinary members of the country's electorate.
In Shetland there are three main election issues on voters' minds, but with a common theme - energy.
Deep sea drilling could put money into the hands of local people, even if the high cost of fuel takes it away again.
But plans to erect 127 wind turbines have split the community and the candidates.
Michael Hannah from Hamnavoe said: "I think the scale of it is too big, personally.
"I'm all for eco-issues and doing the best we can for the environment but it's just too big."
Many others in Lerwick have expressed similar sentiments.
But if energy's not to come from the air, what are the acceptable alternatives for Shetland.
Deep sea drilling vessels have become regular visitors to these islands as they explore untapped pockets of oil in the north Atlantic.
Another recent arrival outside Lerwick was the Greenpeace protest ship from which demonstrators managed to stop an oil ship from sailing.
At a harbour-side bus stop, one resident told me: "I think we're very excited about it because it keeps the economy stable within Shetland.
"The oil companies in general are very green conscious and Greenpeace has gone beyond its limits.
"I think they're just interrupting the financial income and the economy."
But there are some who share the concerns of Greenpeace.
Caroline Miller explained: "I think there's always a fear that the shores of Shetland could be polluted by oil spills and that's why fundamentally safety must be paramount."
But even with so much oil prosperity here, many feel the current fuel prices are difficult to swallow.
Ferry and flight costs are on the rise too.
Francis Fackrell, from Virkie, said: "It's disgusting. We stay at the south end and it costs us £7 to pay a visit to Lerwick.
"Even eight years ago it was £3.50 or maybe less.
"I think for places like Shetland where there's no competition, with only one fuel company, they can charge what they like and they do."