Scottish election: Scottish Labour manifesto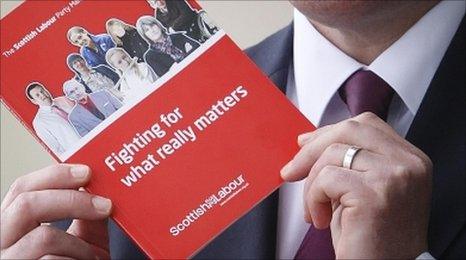 Scottish Labour has launched its manifesto for the 2011 Scottish Parliament election.
Here is a look at all the key pledges:
- Abolish youth unemployment in next parliament and create 250,000 jobs by end of decade.
- 10,000 work placements for unemployed young people through new Scottish Future Jobs Fund.
- New Scottish Living Wage of at least £7.15 an hour, beginning in the public sector.
- Guaranteed modern apprenticeship for every suitably qualified 16 to 18-year-old who wants one from 2013.
- Double value of exports over next decade.
- "Robust efficiency savings", including scrapping Council of Economic Advisors and the Scottish Futures Trust.
- Government funding to restart national volunteering scheme.
- Campaign to bring new Green Investment Bank headquarters to Scotland.
- Economic cabinet at heart of government, drawing on business, trade union and voluntary sector experience.
- Create up to 60,000 green jobs by 2015.
- No fundamental reform of Scottish Enterprise, but changes in priorities for the agency, and Highlands and Islands Enterprise retained as a separate entity.
- 5% of each government department's procurement budget set aside for innovation and drive down government spending on consultants.
- Guarantee to subject finance legislation and regulation to impact assessment.
- New "Plus One scheme" to help small businesses take on their first employee with support on personnel, payroll and legal issues.
- Continue small business bonus scheme.
- Appoint a "digital champion" to bring forward a strategy to improve broadband.
- Maintain parity with the English non-domestic poundage rate and seek to improve scheme.
- No income tax increase above rest of UK during next parliament.
- More visible bidding and tendering opportunities through public contracts procurement portal.
- Scottish government departments to pay 80% of supplier invoices within five, rather than 10, days.
- Improve grid connections between Scotland and the rest of the UK and Europe.
- New body, Energy Scotland, to drive forward plans to become a world leader in low carbon sector.
- 80% of energy to come from renewables by 2020.
- Renewable electricity generation opportunities for at least 10,000 homes.
- Double the value of Saltire prize on renewable energy innovation to £20m.
- Plans for new nuclear power stations "considered on merit", in terms of safety, environmental impact and community views.
- No new, non-replacement fossil fuel power stations without effective carbon capture and storage systems.
- Phase out diesel and petrol cars for government use, including ministerial cars, and replace them with greener hybrids.
- 10,000 electric vehicle charging points by 2015.
- 10% of trips made by bike by 2020.
- Explore restoration of Scotland's peat lands and support new tree planting.
- Support the proposals for Central Scotland Orchard.
- Make VisitScotland lead tourism development agency and cut duplication with Scottish Enterprise.
- VisitScotland and EventScotland to deliver "See More of Scotland" campaign for visitors to events like the Commonwealth Games.
- Require those who dig up the roads to repair surface "timeously and to acceptable standards".
- Committed to deliver Aberdeen bypass, M8 Baillieston to Newhouse upgrade, and M74 Raith interchange.
- programme of continuous improvements to the A82, A1, A9, A77, A75, A95 and A96.
- Deliver new Forth road bridge and "empower" public to choose its name.
- Better use of inland waterways and improved links to ports, such as Grangemouth.
- Make the road equivalent tariff pilot permanent in Western Isles and will widen coverage to ferry services to the Clyde and the Argyll isles.
- Consider all options for the Scotrail franchise, including public and not for profit models and deliver free Wi-Fi and 3G mobile phone coverage as part of next contract.
- Reinstate Glasgow Airport Rail Link.
- Set up air route marketing fund, retain air discount scheme and back freight facilities grant.
- Sustain and extend concessionary travel.
- Specialised training for up to 1,000 teachers, to boost literacy and numeracy standards.
- Consult on Early Years Bill, to deliver support measures prior to birth and until age of three.
- No up-front or back-end tuition fees for Scottish students.
- Allow pupils to choose vocational subjects when making subject choices at S1 or S2 and establish First Class Fund, to help schools boost vocational education.
- Improve number of hours of supported early education and care places.
- Scrap Scottish Futures Trust and explore all funding options to improve school buildings.
- "Zero-tolerance approach" to illiteracy and innumeracy.
- Every school to develop discipline code to tackle bullying and indiscipline, with records on incidents to be shared with parents.
- Work towards two hours' quality PE in every school.
- Introduce Commonwealth legacy schools, following Glasgow games.
- Musical instruments fund for schools.
- Give every young person right to quality training, stay in school or to go into further education until they are 18, by 2015.
- "Swift and effective action" to ensure vulnerable youngsters receive care and protection they deserve.
- No compulsory redundancies for NHS staff and protection for health service budget.
- Cut NHS boards under plan for "bold efficiency measures".
- Review NHS bonus schemes, performance-related pay and merit and distinction awards.
- Deliver National Care Service within the lifetime of the next parliament, to provide the right care at the right time.
- Right to see cancer specialist and get results within two weeks by 2015, halving current waiting time.
- Free swimming lessons for primary school children.
- Maintain A&E services at Monklands and Ayr hospitals.
- "Eliminate" superbugs in NHS.
- Abolish hospital parking charges possibly through PPP-owned and managed car parks.
- No reintroduction of prescription charges in Scotland.
- crack down on sale of alcohol to under 18s through greater use of test purchasing and encouraging bottle tagging.
- Limit the permitted levels of caffeine in pre-mixed alcoholic drinks linked to anti-social behaviour.
- Pilot alcohol treatment and testing orders.
- Tighten up the loopholes in legislation to prevent tobacco advertising on merchandise.
- Consult on the ban on smoking in cars carrying child-passengers.
- Deliver mental health strategy.
- Protect police officer numbers.
- Six-month mandatory minimum jail sentences for knife-carrying.
- Put victims first with Victims' Commissioner and charter of rights.
- Repeal "dangerous" plans to scrap the use of short prison sentences.
- Create single, national police force and single fire service.
- Renewed focus on improving the treatment of victims of rape in the justice system and possible reform to the need for corroboration in rape cases.
- Pilot the use of GPS satellite tracking technology for serious sex offenders on release from prison.
- Roll out "park ASBOs" and introduce drink banning orders.
- Support community payback for offenders with local people deciding on nature of work.
- Prisoners to undertake work or learning throughout their sentence.
- "Zero tolerance approach" to drugs in prisons including more random searches for prison visitors and prison wardens.
- Crack down on problem neighbours by linking short-term tenancies to tenancy agreements, so that unacceptable behaviour can lead to eviction.
- Legislation requiring private landlords to act against anti-social residents.
- Wide-ranging review of legal aid.
- Extend use of online crime maps, giving communities monthly access to information on the crimes committed in their area and what is being done to tackle it.
- Review Fatal Accident Inquiry legislation.
- Modernise civil justice system.
- New First Foot scheme to cut size of deposits on new properties to between 5-10%
- Champion volunteering, beginning by restarting ProjectScotland.
- Freeze council tax for the next two years, with no above-inflation rises thereafter.
- Consult tenants on how housing is provided.
- Require all property factors to comply with a code of conduct to end "nightmare" homeowners face at the hands of unscrupulous factors.
- Support communities to take ownership of derelict land or rundown properties and empty homes partnership to bring Scotland's 25,000 long-term empty homes back into use.
- End fuel poverty by 2016.
- Establish Fairer Scotland Commission, to consider the most effective action to tackle poverty, equality and social exclusion.
- Review recent changes to the planning system.
- Cut high earner pay in the public sector, starting with 5% reduction in all ministerial salaries.
- End the "unjust" situation that has seen gay men previously prosecuted for consensual acts continue to suffer prejudice long after offences have been decriminalised.
- Give religious organisations freedom to hold civil partnerships in their buildings for the first time.
- Consult on genuine equality for same-sex couples by addressing the different status of civil partnership and marriage.
- New "Scottish Film Champion"
- Modernise library services to expand the provision of superfast broadband and e-book lending.
- Protect free admission to galleries and museums.
Related Internet Links
The BBC is not responsible for the content of external sites.