Scottish election: Principal warning over tuition fees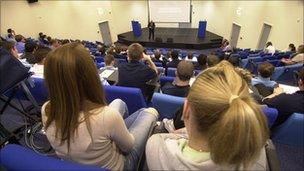 A university principal is warning that political promises to keep tuition free for Scottish students may have to be broken after the Holyrood election.
Prof Pete Downes, who runs Dundee University, believes higher education will need more money than the next Scottish government can afford.
The SNP, Labour and the Liberal Democrats all say any funding gap can be filled without ending free tuition.
The Conservatives are calling for a graduate contribution.
Prof Downes told BBC Scotland a charge of between £3,000 and £4,000 for each year would be "quite reasonable".
He said that without that, Scottish universities might need an extra £200m a year to stay competitive when English institutions start charging top-up fees.
That estimate is more than double what the last Scottish government said would be needed.
Prof Downes said: "Undergraduate education is not a universal benefit - it's a benefit to about 45% of the school-leaving population.
"But the other areas of the public purse, like the National Health Service, school education and councils, are universal benefits, they benefit everybody irrespective of whether they go to university.
"So that's why I think graduates contributing in some way would be fair."
Related Internet Links
The BBC is not responsible for the content of external sites.