Scottish election: Parties focus on tax and music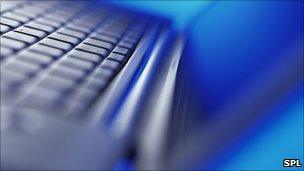 Taxation, business and school music lessons were on the agenda for Scotland's politicians as they continued election campaigning.
SNP leader Alex Salmond focussed on the importance of technology while Scottish Labour leader Iain Gray was due to join pupils for their music class.
The Lib Dems were at a whisky bottling plant and the Tories called for the end of home reports.
The Scottish Greens launched their land value tax plan.
The introduction of fairer taxes with the proceeds being invested in public services is one of the three key election campaign pledges of the Greens.
Co-convener Patrick Harvie outlined the tax plans alongside land reform expert and author, Andy Wightman.
The Greens believe their land value tax would bring in almost £1.1bn of additional revenue each year. It said that those living in council tax band rated properties A to E would pay less and those in band F to H would pay more.
The party explained that the new tax would be calculated by applying a poundage rate to the overall value of the land in question.
Mr Harvie said: "Local taxation is broken, budgets for public services are being squeezed, and vacant land and empty commercial properties are a blight on our towns and cities.
"Scotland is being held back by a council tax regime which was unfair and outdated even before the SNP started setting it nationally.
"Neither the council tax nor business rates provide any incentives to promote either the maintenance of property or the sensible and efficient development of land."
During a visit to Borders Biscuits in Larnark, the SNP's Mr Salmond unveiled the party's £50m Next Generation Digital Fund which promises to deliver high-speed broadband.
Mr Salmond said: "Scotland must be positioned to take advantage of all the opportunities offered by the digital age.
"The Scottish Futures Fund is our bridge to the future. As we build a physical connection from Edinburgh to Fife with a new Forth Crossing so we build the infrastructure of the future with real investment in high speed broadband and mobile technology."
He added that access to high-speed next generation broadband was essential "not just for our new industries but for our traditional businesses and our rural communities".
Mr Gray visited Musselburgh Grammar School where he outlined his party's commitment to deliver a new music policy for schools, including a £2m musical instruments fund.
He said: "No child who wants to learn how to play a musical instrument should be excluded because their family can't afford to pay for lessons.
"That is why we will set up a £2m annual fund to make sure pupils from poorer backgrounds can get access to a musical instrument.
"Scotland has produced some great musicians over the years and we need to nurture talent by making sure future generations can learn how to play an instrument."
The Scottish Conservative's campaign manager David McLetchie was at the ESPC office in George Street, Edinburgh, to discuss his party's policy on abolishing home reports for property sales.
He said that in the best of times home reports were "an expensive luxury".
Mr McLetchie added: "However, in these difficult economic times caused by Labour's debt legacy and with the housing market struggling to return to where it was a couple of years ago, they are madness.
"Only the Scottish Conservatives opposed their introduction - all the other parties in the Scottish Parliament voted for them. However, the call for a review in the Scottish Lib Dem manifesto is an indication that the tide is turning in light of the evidence."
The Liberal Democrats' Danny Alexander joined Glasgow list candidate Katy Gordon at whisky bottlers and suppliers, Douglas Laing and Co in Glasgow.
There, the chief secretary to the Treasury explained his party's export action plan. The Scottish Lib Dems said they would set a target to grow the economic value of Scotland's exports by 50% by 2020.
Mr Alexander said: "The Liberal Democrats' exports action plan will help create the conditions to grow Scotland's exports by 50% and double the number of companies who trade overseas.
"Douglas Laing and Co is a great example of a Scottish business exporting iconic Scottish whisky across the globe. We want more Scottish businesses building Scotland's proud record as an exporting nation.
"Our action plan includes cutting down the confusion of quangos promoting Scotland abroad and specific funding to help those businesses wanting to export innovative or new-to-market products."
Related Internet Links
The BBC is not responsible for the content of external sites.