Scottish election: Leaked paper reveals tax plan cost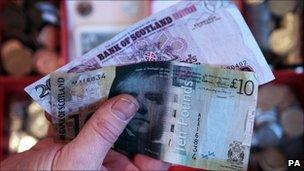 SNP plans for a local income tax would have cost Scots more this year than the party had previously suggested, according to a leaked report.
The 3p levy was in the SNP's 2007 manifesto, but the policy was shelved when it was in government.
However, based on the leaked report it has been suggested a rate of 4.6p would have been needed for council services.
The SNP's 2011 manifesto will be launched next week but it is unclear whether the policy will be included.
The report projected that around £2.2bn would be raised by council tax in this financial year, while local income tax at the 3p rate would raise between £1.46bn and £1.49bn.
Dr Goudie's analysis showed the shortfall would sit between £366m and £396m if UK ministers gave Holyrood the £374m paid out in council tax benefit in Scotland.
However, without this, the shortfall would increase to between £740m and £770m.
An SNP spokesperson said: "The issue is now an entirely academic one, and anyway is last week's news story.
"As we have repeatedly said, we will take our plans for local income tax to the people at the next election, as it could only be implemented in the parliament after next.
"There are three requirements that need to be met for local income tax to replace the council tax. First, a full recovery in employment from the impact of Labour's recession; second, control over council tax benefit resources in Scotland; and third, greater control over the income tax base in Scotland.
"These would enable a 3p local income tax to fully replace the council tax. Labour's scaremongering figures are therefore entirely bogus, in an attempt to take the debate away from the reality of their record of sky-high council tax increases."
Scottish Labour leader Iain Gray said the leaked document was "explosive" and showed the SNP had engaged in a systematic programme of deception, lasting many years.
He added: "In the space of a week, their approach has gone from the absurd to the deceitful.
"They have consistently claimed that this policy would cost only 3p for families but these latest revelations show their extraordinary lengths to hide the truth.
"Families would be hundreds of pounds worse off a year under these secret SNP plans."
Annabel Goldie, Scottish Conservative leader, said: "Alex Salmond's local income tax bombshell has exploded all over his election campaign.
"He has spent tens of thousands of pounds of taxpayers' money to try and hide the truth. But now we know that his pretence of a 3p local income tax rate was just a sham.
"His senior economic advisor told him the real figure was 4.5p. That is a 50% hike and would have meant tax bills hundreds of pound a year higher for families the length and breadth of Scotland.
"Alex Salmond owes Scotland an apology. He hid the truth. He refused to come clean when challenged. He misled Scotland."
Liberal Democrat Danny Alexander - whose party also supports the introduction of a local income tax from 2016, said: "There are lots of issues that have to be considered.
"It's something that the SNP tried to pursue in the last Scottish Parliament and decided in the end not to.
"Reform of local government finance is something that requires careful consideration."
In response to the leaked document on the SNP's local income tax plan, the Scottish Greens said that their land value tax proposal was the only "credible and costed alternative to the discredited council tax".
The party's co-convener, Patrick Harvie, said: "The SNP's tax plans are built on a massive fiction, and they also rely on the tax powers they handed back to London."
Related Internet Links
The BBC is not responsible for the content of external sites.