Scottish election: Solidarity Party profile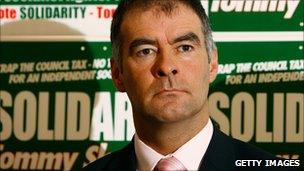 In the aftermath of Tommy Sheridan's successful libel action against the News of the World, Solidarity was born.
It was 2006 and the former leader of the Scottish Socialist Party (SSP) had just won £200,000 in damages over claims he was an adulterer who had visited a Manchester sex club.
The case saw several SSP members, including MSPs, tell the jury that Mr Sheridan had admitted attending the swingers' club at a party meeting.
However, the jury believed Mr Sheridan, and after he won the Court of Session case he branded his former colleagues "scabs" in a newspaper interview.
Mr Sheridan then split with the party and formed the rival organisation Solidarity with former SSP MSP Rosemary Byrne, the only person in the SSP parliamentary group who supported him in court.
Solidarity contested its first parliamentary election the year after its inception, but both Mr Sheridan and Ms Byrne lost their seats and the party failed to win any others.
It notched up about 31,000 votes, about 1.5% of the vote, and the only consolation for the new party leadership was that Solidarity's vote dwarfed that of the SSP.
However, Solidarity's vote dropped again when it contested the Glasgow East by-election in 2008 and it slumped to last place in the Glenrothes contest in the same year.
Mr Sheridan himself stood in last year's general election, in the Glasgow South West constituency, and failed to reach the 5% of the vote needed to retain his deposit.
In September he appeared in court to face charges of perjury over the 2006 defamation case and was found guilty after a 12-week trial.
The 47-year-old was jailed for three years in January.
Afterwards, there was speculation that his wife Gail might stand for election for Solidarity.
This prompted a row between the Sheridan camp and their left-wing ally and Respect candidate, George Galloway.
He was angry about the suggestion that Mrs Sheridan may be placed at the top of Solidarity's Glasgow list, when he claimed they had discussed her standing as a number two to him on the list.
However, Mr Galloway said he had dismissed the proposal because he feared his campaign would have become a referendum on Mr Sheridan's case.
The issue turned out to be academic because about two weeks after the fall-out, Mrs Sheridan confirmed she would not be standing, saying her husband's imprisonment meant her priority was caring for the couple's five-year-old daughter.
And in Glasgow the party is part of a "Coalition against Cuts" list headed by Galloway.
Solidarity is calling for an end to tax avoidance for big companies and the rich, the scrapping of Trident and replacing the council tax with an income-based alternative.
Related Internet Links
The BBC is not responsible for the content of external sites.