Scottish election: Focus on economy and environment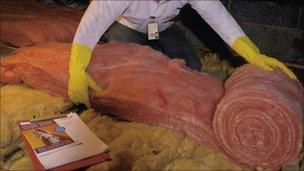 Scotland's political parties are focussing on the economy, education and the environment as campaigning ahead of the 5 May Holyrood election continues.
The SNP and Greens have both been talking about plans to support home insulation, while the Lib Dems pledged to boost the science sector.
The Tories' Annabel Goldie has been pushing her party's plans on council tax relief for the poorest pensioners.
And Labour leader Iain Gray's campaign focused on jobs.
The SNP's John Swinney was in Pitlochry, Perthshire, to launch the latest part of his party's "Scottish Futures Fund", with a pledge to invest £50m in tackling fuel poverty and meeting climate change targets.
He said: "Over the last four years, we have invested in insulation for homes across the country and 40,000 new heating systems to tackle fuel poverty.
"The warm homes fund will allow us to go further to help households and communities benefit from cheaper and greener energy using renewable sources."
Mr Swinney said using solar heating for water, ground source heating for communities, improving the energy efficiency of homes and small-scale renewable developments would help power Scotland's future.
Meanwhile, the Greens launched their plans to insulate every Scottish home, through a £100m-a-year universal scheme.
The party said the move is a part of its campaign pledges to boost jobs, cut fuel poverty, lower household bills and tackle climate change.
The Greens claimed the SNP government's insulation scheme cost £1,600 per job and claimed it would take more than 200 years to insulate every home in Scotland, if left to the Nationalists.
Mr Gray was joined by Shadow Chancellor Ed Balls on a visit to the Coca-Cola bottling plant in East Kilbride, pledging to make boosting jobs and tackling youth unemployment top priorities.
Mr Balls, said: "Labour knows all too well the cost of the Tory-led government's harsh cuts and Labour's team of MPs - including from Scottish Labour - have been telling the government that they are cutting too far and too fast, but they won't listen.
"The Tories seem happy to leave Scottish youngsters on the scrap-heap, but Iain Gray has made clear that he won't let that happen.
"The Scottish Parliament can be a first line of defence against a Tory economic policy that sees unemployment as a price worth paying."
Miss Goldie pushed her pledge for a £200 council tax cut for every pensioner household, and the right for local people to veto future above-inflation tax bill rises.
Speaking from Cunninghame North, she said: "One day, the council tax freeze has to end. It cannot continue indefinitely.
"When that time comes, we want to give local residents the power to stop bills rising faster than inflation.
"We will legislate to ensure that any local authority wishing to raise council tax above inflation must get the approval of residents in a referendum."
Tavish Scott highlighted his party's commitment to a "science nation fund", to encourage more people, especially women, to take up science as a career.
Speaking from the Edinburgh International Science Festival, the Lib Dem leader, said: "We want Scotland's research to help Scotland's services.
"We will foster links between the Scottish life sciences industries and NHS Scotland to ensure that there are appropriate opportunities for the development and introduction of new products in Scotland.
"Our plans will encourage young people to study science to create the next generation of Scottish scientists."
Related Internet Links
The BBC is not responsible for the content of external sites.