Scottish election: Students speak about election hopes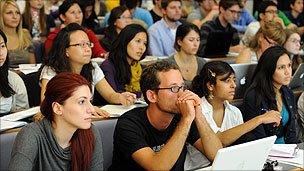 For many university students in Scotland, this will be the first time they will walk into a school hall turned polling station and score an "x" beside a candidate's name.
Parties are grappling for all the votes they can get and students are prime election targets.
You could be forgiven for thinking that tuition fees and university cuts are the only things students care about.
The images of protesters clashing with police last November in London, the broken glass, the flames, are hard to forget.
But what more do students in Scotland care about?
There's a red and white bull's-eye in the middle of the "O" of the union sign at Strathclyde University. This metal and glass fronted building on Glasgow's John Street is where the university's students usually come when they have a problem that needs targeting.
Full-time politics and history student Darren, 20, was inside. He said: "I'm doing 35 hours at work this week. I really should be studying for my exams but I need the money.
"What I'm doing isn't uncommon. There's a massive stress there."
Philip Whyte, president of Strathclyde union, thinks the government doesn't do enough to support students like Darren.
He said: "Scotland has the largest percentage of students dropping out in the UK and that is absolutely down to the fact that students have to take on too many hours in a part time jobs to get by.
"If you don't, you have to take on masses of commercial debt instead through overdrafts and credit cards."
This word "job" is one that dogs students' thoughts and conversations. If it's not part-time work while at university, it's graduate employment once students have stopped studying.
Iain, 23, doesn't seem optimistic about his job prospects. He said: "It's really quite scary applying for everything and getting so many rejection letters.
"If politicians could create more jobs," he said, "it would be amazing."
Politics professor John Curtice would agree. He pointed out what he sees as a vital flaw in the Scottish election rhetoric.
He said: "Despite promising more jobs, the big problem for the Scottish parties is that the main economic levers that can improve employment opportunities are in the corridors of Westminster, not Holyrood."
Another student with different worries is Charandeep Singh, 21, who studies marketing and management. He volunteers at a Scottish Sikh youth group and he wants a key question answered.
He said: "We get funding from the government to run weekly activities with the kids - leadership classes, history classes, language classes.
"Now my question is, are those activities going to continue?
"They haven't made an indication they won't yet, but it's always a fear anyway."
It's a lack of certainty that follows these students around. Picking up a pension might seem like a vague idea, but many are doubtful there will even be one there to be picked up.
Iain said: "Everyone says when you first get a job, work out a pension. The pension system is shocking and it doesn't look good for us.
"There's no place we can save that's safe and by the time we stop working we might not have a pension anyway."
Others don't really think about pensions personally, but on behalf of other people in their family.
Graeme is Glasgow born and bred. He's 21, studies Chemical Engineering and lives at home in the east end to save money.
He said: "Health and pension policies don't really affect us at the moment, but we have grans and a lot of us care about who gets in because we're members of society too.
"Crime and justice policies will sway my voting too, definitely.
"I have sisters that walk to school in pretty deprived areas of Glasgow where crime is an actual problem, day in day out."
Crime, jobs and youth groups aside, the real test for students will be getting to that polling station.
Despite an estimated 287,000 students in higher education in Scotland, this year could see only 30-50% of them voting.
It's a similar story in the national statistics, four years ago only 51.72% of the people in Scotland voted in the Scottish parliamentary election.
Students seem to care about much more than education, so why could so few of them shuffling down to that school hall or community centre on 5 May?
Something Iain said rings out: "I think students have a fear that politicians might not keep their promises. All these politicians are promising loads of things. They promise you the world. But what will they actually do?"