Scottish election: Business chiefs quiz party leaders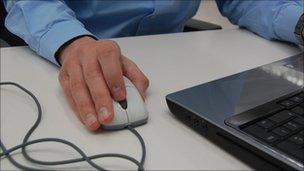 Politicians have been urged to address lending and regulations to allow small businesses to drive the Scottish economy forward.
The Federation of Small Businesses (FSB) had invited five party leaders to tackle questions about business and the economy at a hustings in Edinburgh.
They heard small business finance had been a "huge issue" over the past three years.
About 200 FSB members turned out for the event, held at Dynamic Earth.
Facing questioning were the SNP's Alex Salmond, Labour's Iain Gray, Lib Dem Tavish Scott, Conservative Annabel Goldie, and the Greens' Patrick Harvie.
Members said access to finance and layers of red tape in terms of regulations, were two of the main difficulties facing small companies.
Michael Dixon, chairman of the FSB in the east of Scotland, said small business finance had been a "huge issue" over the past three years, with concerns over competition caused by the domination of the Royal Bank of Scotland and Lloyds Banking Group.
He asked the party leaders to explain how, under the current powers of the Scottish Parliament, they would help businesses to get the finance they need to grow the economy.
Liberal Democrat leader Tavish Scott said the issue was "the big business challenge of this time".
He said: "Our proposal is very simply to make sure that a regional development bank structure across Scotland could marry the investment needs of the area with other choices around skills that your businesses would decide - it would be business-led, it would be commercial lending, but it would ensure that availability of finance."
Criticising the Lib Dem policy, SNP leader Alex Salmond said: "You can't crack this by setting up a bank to replace the existing banks, you can only crack this by making sure you have a competitive banking market in Scotland."
Mr Salmond said government direction was needed, however the current powers of the Scottish Parliament only "allow pressure in that direction".
Labour leader Iain Gray said the issue would be "top of the agenda" in a first conversation with the Prime Minister if he becomes First Minister in May.
Mr Gray said: "What we are talking about here is a market failure, and I believe that where there is a market failure, we should do what we can to try and help with that.
"We shouldn't give up in getting the banks to play their part in our economy once more, because they certainly aren't doing it now, that's for sure."
Annabel Goldie, Tory leader, said "a greater element of competition" was needed in the banking sector.
She said: "The bottom line in all of this is we have to get the economy moving, and we have to get slightly more competition in the banking sector, and yes, I think we have to look very closely at how on earth do we get the banks to sell business better."
Greens co-leader Patrick Harvie said the current situation painted a picture of "power imbalance".
He said local banks, including credit unions, would be "healthy" for the economy, because they would have a direct relationship with, and understanding of, local businesses.
The FSB says it is Scotland's largest direct-member business organisation. It represents more than 20,000 Scottish members in every sector of the economy.
Campaigning for all parties continues ahead of the 5 May poll.
Related Internet Links
The BBC is not responsible for the content of external sites.