Scottish election: Focus on farming and prison issues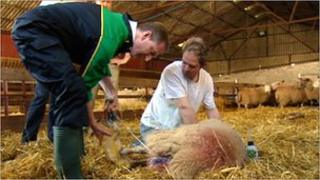 Justice, the environment and health were on the agenda for the main political parties campaigning ahead of the 5 May Scottish Parliament election.
Lib Dem leader Tavish Scott assisted at a lambing event while campaigning on his rural action plan.
The Tories pushed their pledge to tackle drug abuse in prisons, while Labour pledged to cut cancer treatment waiting times.
The SNP highlighted plans to cut carbon emissions in transport.
The Lib Dems want to increase diversity in parts of rural Scotland while supporting the existing sector.
Speaking from Stagehill Farm in the borders, Mr Scott said he wanted to promote innovation in rural businesses, support local tourism and deliver super fast broadband.
He added: "Farms mean jobs in rural and island areas right across Scotland - supporting our agricultural sector is essential to keeping communities alive, and local shops, schools and companies in business.
"Scotland's farmers and crofters need a government on their side, stopping the worst excesses of Europe and making sure our industry gets a fair crack in the market."
Labour leader Iain Gray visited a health centre in Bridge of Allan to highlight his party's pledge on cutting waiting times for cancer results from one month to two weeks.
He said: "Cancer continues to claim the lives of too many Scots and casts a dark shadow over too many families.
"We must up our efforts in the fight against cancer so we can diagnose cancer quicker.
"That is why Labour will introduce a new right to see a cancer specialist and get results within two weeks, halving the current waiting time."
SNP leader Alex Salmond launched the latest strand of his party's Scottish Futures Fund with the promise to launch a £50m fund to invest in green transport technology.
Drug-free wings
He said: "In our first term, the SNP government led the world with the most ambitious climate change targets ever introduced - legislating to reduce harmful emissions by 42% by 2020 with our Climate Change Act, he said while visiting Dundee University's centre for renewable energy.
"The fund will deliver economic as well as environmental benefits by encouraging Scottish firms specializing in low carbon transport technologies."
Meanwhile, deputy Scottish Tory leader Murdo Fraser was outside Perth Prison to talk about his party's pledge on mandatory drug tests for new prisoners and drug-free wings.
He explained: "So much crime in Scotland is fuelled by drugs.
"We know that, for every £1 spent on drug rehabilitation, almost £10 is saved in policing, court, healthcare and other social costs.
"It is common sense to pursue these measures because they would mean lower re-offending, less crime and a safer prison environment."