Scottish election: First-time voters eye election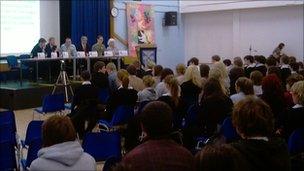 With cuts, youth unemployment and the cost of education at the forefront of the Holyrood election campaign, it seems young people are being courted by the parties like never before.
But what is really on the minds of first-time voters - and do they still feel neglected by the politicians?
Musselburgh Grammar School, near Edinburgh, is like many schools across Scotland, with a mix of pupils from different backgrounds.
Some want to go to university or college, while others are looking to get straight into a job or training.
The move to allow universities in England to charge up to £9,000 a year in student tuition fees brought young people out on the streets in their thousands.
In Scotland, three out of the four big parties want to keep university education free for Scots students, with only the Tories backing a graduate charge.
That's the issue which is foremost on the minds of first-time voters Paul Sutherland and Katie Hogg, both higher modern studies students at Musselburgh school.
Paul said: "I'm hoping to go to university so I've been looking at the tuition fees maybe going up. I'm hoping that doesn't come into play."
Katie added: "I've chosen to study in Scotland just because of the fees."
On other issues important to young people, she said: "Trident - I'm not into nuclear submarines, but we can't do much about that up in Scotland."
Football fan Paul said sectarianism was another big issue: "Seeing the Old Firm on the news quite a bit and the politicians getting involved - I think they'll need to try their best to try and cut that out of the game."
Musselburgh Grammar School hosted its own question time-style session, where pupils got the chance to put their points to candidates from the main parties.
Issues of the day included the environment, the release of the Lockerbie bomber, knife crime and, yes, tuition fees.
But do the pupils feel they're being listened to?
"They seem quite approachable, but I think everyone thinks because they're politicians, they might not understand where we're coming from because we're younger," said 18-year old-pupil Becky Bailey.
But she said it was important for politicians to listen to the next generation of Scots, adding: "If unemployment increases then we're going to be out of a job - that's as important as tuition fees."
The question time session was organised by modern studies teacher Ruairidh Nicolson.
Not so many years ago, he and I were both higher modern studies pupils sitting in the same classroom.
The political landscape back then was very different - John Major was the prime minister, there was no Scottish Parliament and we were both given the opportunity to go to university in the knowledge we'd get our fees paid and maybe even get a student grant.
Ruairidh says the challenges facing young people today are very different.
"You've got the issue of the economy," he said, adding: "That has impacted on them already because a lot of the senior pupils like to take part-time jobs, like to have a bit of income to themselves.
"A lot of them have found it difficult to secure part-time employment, that's something that's really come through."
Ruairidh added: "There's going to university and the competition for places, with the cuts. We've had a lot of pupils who are looking at courses and finding that the entrance requirements are far, far higher."
Young people today still enjoy all the things teenagers like to do, but with spending cuts expected to continue for many years, they also want reassurance when they go to the polls on 5 May that the politicians want to help give them a future.