Scottish election: Voters on life without nuclear plant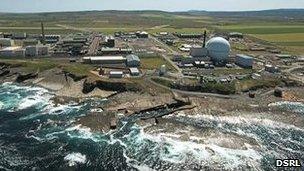 With the Holyrood election campaign in its fourth week, BBC Scotland's Good Morning Scotland reporter Kevin Keane continues his journey to find out what matters to ordinary members of the country's electorate.
It's 100 miles and more than two hours from Inverness to Scotland's most northerly east coast town - Wick.
There are only one or two tiny villages along the route, which hugs the north sea for almost the entire journey.
And when you arrive, a town centre, which one local described as "dying", greets you with dilapidated and boarded-up shops.
Going too, I am told, are many jobs, not least with the decommissioning of the nearby Dounreay Nuclear Power Station.
One resident told me he had served an apprenticeship at Dounreay and worked there for seven years before moving to the offshore industry.
ook back at other voter views pieces from BBC Scotland reporters
Despite being 30 miles (48km) from the town, he sees it as the main employer for Wick.
He added: "If Dounreay was to shut up shop, it would be hard to imagine anything else which would be left.
"I know they are focusing a lot on the renewables energy, but I've yet to see any serious investment or jobs."
At the north end of town, a recently built Tesco stands close to Wick airport and at the southern end is a large non-food retail park.
While some shops have shut, the supermarket has provided some welcome employment at a time of uncertainty at the power plant.
On the High Street, Wick resident Donald Shearer said: "Dounreay is probably the biggest employer for anyone in Caithness, certainly at the moment.
"The truth is the [decommissioning] work is going faster than they thought and it won't last another 15 years, I don't think. Plus the amount of people they are going to need is going to dwindle."
But he thinks jobs are going across the board.
He added: "As you can see the town centre has a lot of small shops that have been closed. The big retailers are affecting it a lot, I think."
Claire Fraser told me: "There's a lot of empty places and I think with Tesco coming here it's taken a lot away from the town centre."
She explained that jobs for young people were very hard to come by.
She added: "It's really difficult and in a small town like this it's about who you know, so it's really hard to get in anywhere."
With the only other significant population centre, Thurso, affected by similar problems, one resident said the area crucially needed investment to halt its decline.