Scottish election: All Scotland Pensioner Party profile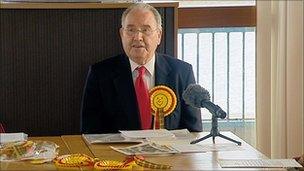 The All Scotland Pensioner Party is the only electoral offering which is solely dedicated to representing the elderly.
The party - described on its website as a "power group for pensioners" - is an amalgamation of the Scottish Senior Citizens Unity Party and the Pensioners Party Scotland.
They were both launched separately in 2003 and decided to stand in separate regions so they were not running against each other.
The SSCUP saw its leader John Swinburne elected in the Central Scotland regional list in 2003.
He says he gained the inspiration to start the SSCUP after reading the UK government's plans for pensions.
The 80-year-old believes is it unfair that people will have to work longer in future and will have less time to enjoy their retirement.
However, the former director of Motherwell Football Club lost his seat in the 2007 Scottish election, when the party polled about 2% of the vote.
He announced plans to stand in the Glasgow North East by-election in 2009 but later withdrew, citing unforeseen circumstances.
The party's 2011 manifesto focuses on the abolition of pensioner poverty - it describes the current state pension of £97 a week as paltry and "the worst in the civilised world".
It says hardship among the elderly could be wiped out by the implementation of its main policy.
John Swinburne said: "One way of doing this would be to pay a pension of £180 a week to all pensioners, men and women.
"And not in 2015 as is being proposed, but right now.
"It's absolutely scandalous to think that after pension credits, after means testing, a man gets £137 currently and his spouse gets £72.
"The gender inequality of this is completely unacceptable and it must stop."
The All Scotland Pensioner Party wants to banish "demeaning and intrusive" means testing and replace the council tax with an income-based local tax.
The party also wants free travel for the over-60s to be extended to trains and ferries and guaranteed respite for carers.
Related Internet Links
The BBC is not responsible for the content of external sites.