Scottish election: Remote businesses 'need support'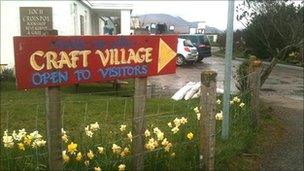 With the Holyrood election campaign in its fourth week, the BBC's Good Morning Scotland reporter Kevin Keane continues his journey to find out what matters to ordinary members of the country's electorate.
The tourism season is still to begin for Scotland's most north-westerly mainland village.
Durness though has been a hive of activity in recent weeks with US marines and other military personnel involved in an exercise at the nearby bombing range.
While they prepare for conflict in war zones, local people have been considering their own fights.
In such a small and remote place, the community relies heavily on entrepreneurship to bring jobs.
James Findlay runs chocolate shop and factory Cocoa Mountain in the Balnakeil Craft Village, established in an abandoned radar base.
He told me: "We started on a very low budget five years ago.
"The customers are very local and come here year-on-year but we do a lot of business online, about 40%.
"Obviously we're in a fragile area so there is help available, but if you're wanting to succeed you will.
"Employing local tradesman is a premium here and if you were refurbishing in the central belt, say, it would be cheaper so the support helps with that."
Kevin Crowe, owner of Loch Croispol book shop, moved here from Leicestershire and has set up a successful business.
He says support for small enterprises has been dwindling.
"It's essential, unless you have large wads of money, to be able to get support from the likes of Highlands and Islands Enterprise.
"I think it's very short-sighted, during an economic crisis, to reduce public funding and support for entrepreneurship.
"The long term effect of that is a reduction in businesses which would reduce employment opportunities and it could lead to another clearances in the Highlands."
Local crofter Martin Mackay believes there are few opportunities for young people in and around Durness.
He says there's a particular struggle just getting into crofting because of the way the single farm payment is set up.
"The crofter going out can keep the payment for themselves and a young entrant would either have to pay a lot of money (for it) or he wouldn't get it at all.
"It's hard enough anyway to make money out of a croft but it's nearly impossible without the government support."
The big fear is unemployment and that without high levels of support more people will leave villages like Durness in favour of bigger places like Inverness or Glasgow.