Scottish election: Sport and cabinet reform is focus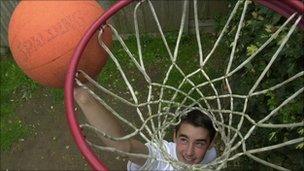 The main parties are campaigning in Scotland's biggest cities exactly three weeks before the Holyrood election.
Labour leader Iain Gray is focusing on sport, and will visit Lochend Youth football club in Edinburgh to launch his party's sport manifesto.
The Tories are also in the capital to outline details of their pledge to create two cabinet-level ministerial positions to help grow the economy.
And Lib Dem leader Tavish Scott laid out his energy action plan in Glasgow.
He joined Glasgow candidate Katy Gordon on a tour of a Scottish Power facility, where they talked about the party's plan to stimulate low-carbon investment, create jobs and make progress on Scotland's emissions reduction targets.
Mr Scott said: "Scotland has the research base and the natural resources to be at the forefront of the renewable energy sector as it develops and our companies are world leaders in their field.
"Ensuring that they receive the support they need to grow will create thousands of green jobs and can only be good for Scotland."
In Edinburgh, the Scottish Conservative enterprise spokesman Gavin Brown revealed his party's plans for the new positions, which they hope will boost the economy.
He said: "We will create a new cabinet-level position of Minister for Finance and Reform, replacing the existing Finance and Sustainable Growth portfolio, and provide a dedicated member of cabinet with responsibility for decisions on taxation and spending, and for driving public sector reform.
"We will also create a new dedicated cabinet-level Minister for Enterprise and Jobs, taking responsibility for enterprise, planning, transport and infrastructure."
The new positions would replace two existing junior ministerial posts.
In Edinburgh, Scottish Labour published its "sports manifesto" with commitments to encouraging free access to council swimming pools and working towards two hours of PE a week in all schools.
It said it supported the University of Sport in Stirling and wanted to introduce Commonwealth Games "legacy schools" to encourage sporting activities among children.
Scottish Labour leader, Iain Gray, said: "Scotland has some of the best fans in the world, but we have sometimes struggled to translate our passion for backing our teams into passion for exercising ourselves.
"Labour has set out ambitious plans to get more Scots exercising - starting in schools and carrying through to adulthood.
"We want to see our elite athletes achieve their potential and the Commonwealth Games offers a once in a lifetime opportunity to get Scottish kids really excited about sport."
The SNP was in Glasgow to launch its manifesto.
The nationalists have promised a five-year council tax freeze if they win power, as well as protecting police numbers and health spending, and ruling out tuition fees or graduate contributions for university students.
Related Internet Links
The BBC is not responsible for the content of external sites.