Scottish election: Housing is pressing issue for Tain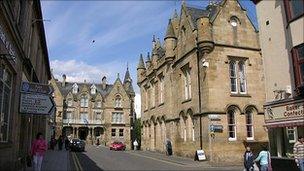 With the Holyrood election campaign in its fourth week, the BBC's Good Morning Scotland reporter Kevin Keane continues his journey to find out what matters to ordinary members of the country's electorate.
Tain is a town which boasts what it calls the "million dollar view", but is the outlook here in Easter Ross quite as rosy?
On the high street, a mix of views from early morning shoppers - many on housing.
A theme which has touched communities across Scotland is affordable homes and in this picturesque community there is similar concern.
Gail Stuart told me: "It's very hard for young people in particular to find even rented accommodation that's appropriate for them at the right price, especially if jobs are bad.
"If you don't have an adequate wage then it is very difficult to find somewhere that's comfortable and suits everybody's needs, particularly for families."
Another resident believes the chocolate box nature of the area is partly responsible for the problem.
"What we've found is, particularly in the smaller villages, there's not enough affordable housing in them and with house prices starting to even out, with the north/south divide, it definitely is causing problems with people buying holiday homes and local people not being able to buy."
A major source of employment historically has been the nearby fabrication yard at Nigg which has been for sale for some time and local resident John Willis says they need to get on with selling it.
He explained: "It used to be a big employer, about 15,000, and now of course there's next to nothing but it has great potential for windfarm turbine building.
"Every time you read something about it in the paper you just hear there's a preferred bidder and an answer within the next month but that's been going on like that for a couple of years.
"It would be good for the area if they did something about it and it would be the biggest employer in this part of Ross-shire."
But not everyone supports the idea of a fabrication yard on the door step which makes wind turbines.
Rather forcefully, one resident urged: "Stop building all these on shore wind farms, they are a blight on the landscape.
"They are hellish for people who live near them and they really are not the answer."
Related Internet Links
The BBC is not responsible for the content of external sites.