Scottish election: Main party leaders at police event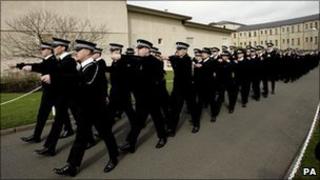 Scotland's four main party leaders have attended a Scottish Police Federation hustings, as campaigning continues for the Holyrood election on 5 May.
The parties pledged to keep 1,000 extra officers brought in since 2007, but policies on forces' structure differ.
Labour's Iain Gray said a single force would protect jobs, but Lib Dem Tavish Scott said it may harm police autonomy.
The SNP's Alex Salmond said a revamp would save money. Commissioners would keep policing local, the Tories said.
Party leader Annabel Goldie told the event in Aviemore that she supported reducing Scotland's eight police forces to a single national force.
Ms Goldie said replacing police boards with local commissioners to every area would ensure the retention of divisional structures and local policing.
She added: "I am proud of my role in giving you 1,000 extra colleagues, out on our streets, detecting, deterring, arresting and helping.
"And in the next parliament I will fight to right a wrong which has gone on for too long.
"We must restore honesty in sentencing and end automatic early release."
There has been much debate over how Scotland's police forces could be reorganised to save money.
Labour wants to merge them into one single force, and the SNP also wants a reduction.
The Liberal Democrats and the Greens are the only parties opposing a cut in the number of forces.
Lib Dem leader Tavish Scott told members: "This proposal is wrong for Scotland. Our single chief constable wouldn't be out in the country helping communities.
"He or she would be in Edinburgh, standing on the other side of the first minister's desk and taking their orders from the top down.
"So we say no to one chief constable answerable to one first minister. We say no to the direct injection of politics into policing."
Mr Salmond spoke of his party's successes in power. He told the conference that the fear of crime fell last year in Scotland for the first time, in addition to a drop in crimes committed and the prison population.
"Only the SNP can be trusted to keep the record numbers of police officers we now have in Scotland, who have helped drive crime down to its lowest level in 32 years, including a reduction in knife crime of 30%," he said.
"Communities the length and breadth of Scotland want to be reassured that the improvements we have seen in law and order these last four years will not be put at risk."
Meanwhile, the Labour leader said efficiencies were necessary to protect frontline policing.
Mr Gray said: "I believe that we do not need eight human resource departments, I also believe for instance that savings can be made by having one body for asset management.
"I would contend that the other options of maintaining eight forces or moving to a three or four model will mean police constables and sergeants losing their jobs - including experienced officers.
"If I am first minister I will ensure that every penny of these savings goes to supporting the front line."
The main parties have all now launched their manifestos, which detail their ideas on policing and justice.
Knife amnesty
The Tories and Labour want the reintroduction of prison terms of less than three months, while the Lib Dems say community sentences imposed by justice panels would divert minor criminals from reoffending and save court time.
The SNP has vowed to maintain funding for Community Payback Orders, in which low-level offenders carrying out manual labour rather than serving short jail terms.
Before the hustings, the Scottish Police Federation had called for a rethink on the way Scotland's blade culture is tackled.
Its comments came after a BBC Scotland analysis of official crime figures suggested that the knife crime debate should be refocused.
The parties all have different policies on how it could be cut. The Conservatives advocate a nationwide knife amnesty, while the Lib Dems say the key is tackling gang culture.
The SNP have pledged to increase stop-and-search, while Labour wants to bring in six-month mandatory jail terms for anyone convicted of carrying a knife.