Scottish election: Rum looks to build for the future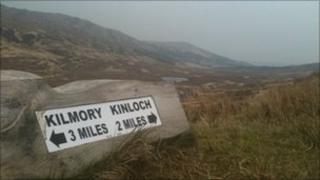 Entering this island by ferry, I am joined by dozens of tourists who have made the trip across from Mallaig.
To greet us, some of the 30 or so people who live on Rum, desperate to separate the visitors from their cash.
Until a year ago, to occupy a property here meant working in some capacity for island owners Scottish Natural Heritage.
But the village of Kinloch has since been handed over to a community trust which is now responsible for house, roads, water and other parts of the infrastructure.
Trust director Fliss Fraser told me: "People had no security to live here.
"All of the houses were tied houses with SNH jobs so if you finished your job you had to find alternative housing or leave, but there is no alternative housing.
"So we wanted to get some land so people could buy or rent a plot, build a house or set up a business and actually have a future.
"It turned into transferring the entire village which is probably practically a better solution but it's meant greater infrastructure concerns and financial pressure on the community."
It took more than a decade to convince the powers-that-be of their request's merits.
Now the handover deal has been completed, the next round of work has to begin; making the trust's plan work.
Walkers and tourists provide much of the income but Sylvia Beaton, who runs the tea shop, says they are left largely to their own devices.
She explained: "I think we probably need more business support because a lot of people here don't have business experience and that's effectively what's required, to try and make things work and to try and grow the economy.
"We need somebody who's got their finger on the pulse but we also need to bring people in who are independent and self-employed.
"It's a catch 22 because we need to house them at the same time."
Everyone here agrees housing is the biggest single issue with no empty properties and some people - including a recently married couple who are expecting a child - living in caravans.
But grocery shop owner Jinty Crocket is aware of the wider difficulties and told me: "It's all funding, the community hasn't got any money.
Self-sustaining
"They have tried for about 10 years to get somebody like Lochaber Housing to build homes but with the economic situation now, nobody's got any money and there isn't any funding that anybody has been able to find.
"We have the planning, we have the sites."
Rum is a community which knows about the importance of building an economy.
Their fear here is that what is happening across the water - that is, on the mainland, might put back or even thwart their own aims to be self sustaining.